Hitty Colleen has only lived here a short time and she is proving to be the most active Hitty I have ever encountered! She is into everything! One morning she explored the workbench and asked question after question as to the use of every object.
Esther was making a dress for HittyBelle to wear with her red boots and as soon as it was finished Hitty Colleen pushed her out of the way and put on the dress. She was already wearing the red boots!
She then picked up the umbrella and went out into the back yard. It had been raining off and on all morning so she said she would just stand there and wait for it to start again so she could see if the umbrella and the boots really did keep her dry. She has such an innocent look that it is hard to scold her about anything.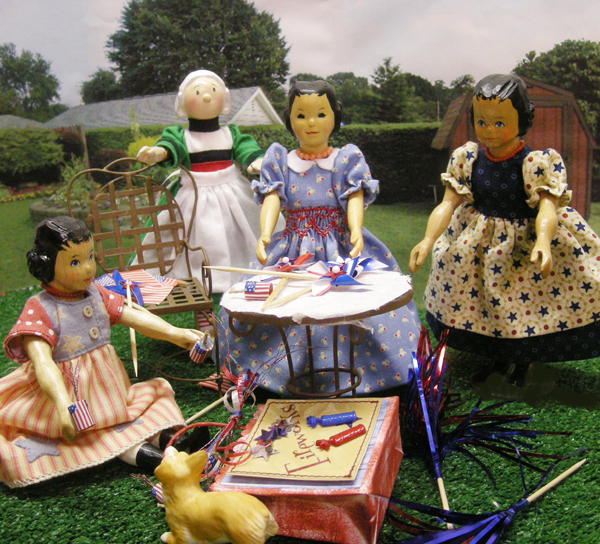 This is the week of the 4th of July so we Hittys dressed in red, white and blue and prepared for the big day. I started bringing the holiday items to the backyard. Hitty Colleen immediately emptied the bag of firecrackers and wanted to know just what was their purpose. Thank goodness several Hittys were there and could explain that firecrackers can be dangerous if not handled carefully.
After all the things we had been saving to help us celebrate were brought out we gathered around the table to choose our favorites. Our Hitty friends had sent us little American flags, pinwheels, decorations and firecrackers. We are indeed prepared!
All week we have been tracking the progress of the Hittygirls travel doll, Hitty Emily, on her trip across the country with our friends. She has had some of the most wonderful adventures and we wish we had been along too! Her destination is Washington, DC and I am sure she will enjoy seeing the nation's capitol.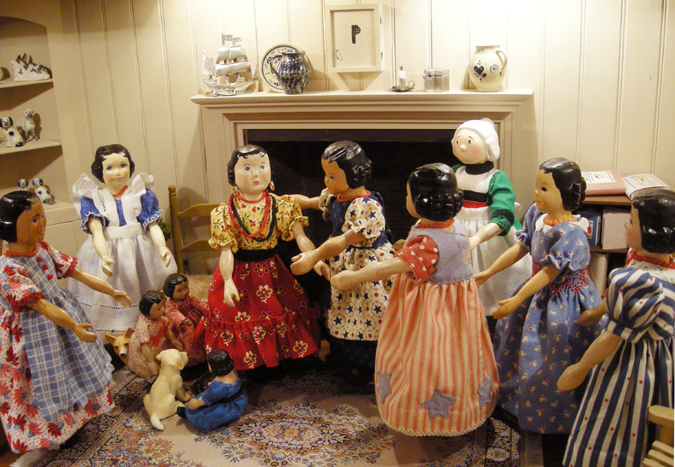 It is now time to say goodbye to Hitty Marie who is going off to Gypsy Camp in Indiana. She is so excited. I must say that I am not sure I would be as adventurous as she but I will certainly look forward to hearing of her experiences upon her return.
We wish all our readers a safe and happy 4TH of July!
Next Chapter or Return to Beginning
or