Chapter One Hundred Four
I hardly know where to begin. It has been an unbelievable fun filled four days! Our Hitty friends have been visiting and there was a Hitty Club meeting with the Hittys being the only topic of conversation. We all know Hittys love that!
When the actual date was set and the festivities planned, several of us went to the local bakery to buy all kinds of cookies, cakes and anything that was party fare.
We have been planning this visit and party for quite some time and Becca had sent fabric for party dresses some time ago so all the dresses would be ready for the big event. Since there were a lot of dresses to be made, it took both JoAnn and Esther to do all the sewing! The day of Hitty Club the Hittys arrived wearing their dresses and Becassine helped tie the ribbon on Hitty Emily's dress as we moved into the party room.
The excitement grew as we greeted each other. Tasha, Puppy and Lily joined us. There were beautiful cakes, cupcakes, boxes of goodies, balloons and party crowns.
It is a good thing the doggies were used to Hitty antics because Hitty Bee took her crown off and put it on Puppy!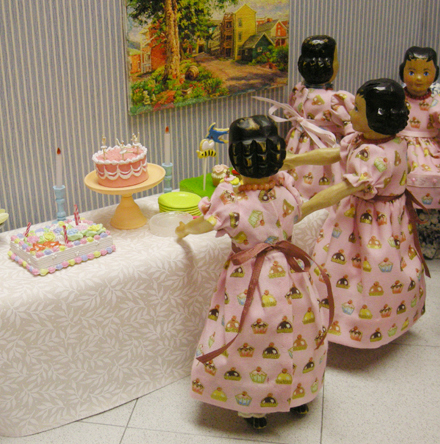 We continued to serve ourselves refreshments and everyone kept commenting on how lovely everything looked.
While the group enjoyed eating and visiting, Becassine and I prepared to distribute the goodie boxes.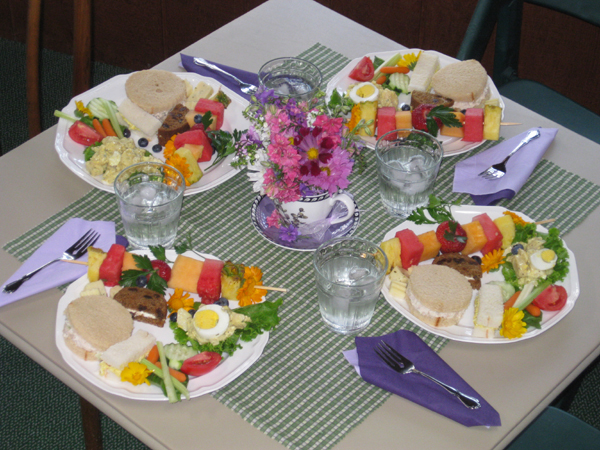 Meanwhile the ladies were enjoying a festive lunch on the patio prepared by the Hitty Club. I can't tell you who did what exactly but Betty, Millie, JoAnn and Toni were in charge of lunch and did a fantastic job! For snacking Eileen had made sugar cookies in the shape of ice cream cones!
Then came the most exciting part of our party. Becca and Jordan-Claire had bought us a pinata they found on one of their stops on their trip across the country. We had such fun hitting it and trying to break it open to see what was inside!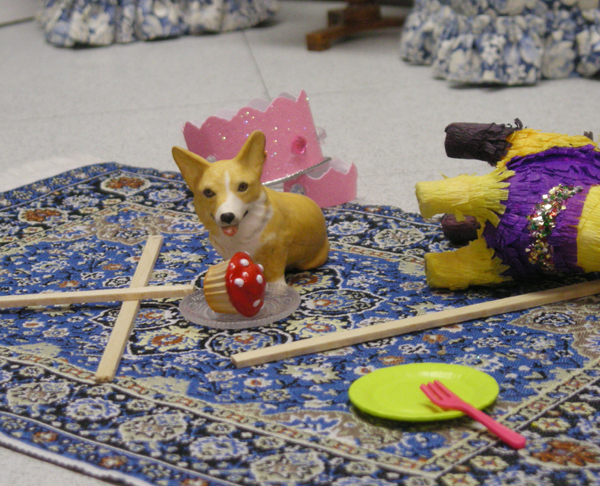 One of the Hittys set her cupcake down on the floor and forgot that doggies were still in the room. Tasha took a serious look at it!
After the party we went back into the other room to watch the ladies work on various sewing projects. The main project was hemming and sewing on the little yo-yos on the gift dresses. We just had to have our picture taken wearing them.
We were all so busy that we didn't notice that Tasha had not left the party room with us. I think this picture shows what she had been doing!
It was a wonderful day and after the Hitty Club ladies and their Hittys left we put on our nightgowns and were planning on going to bed early. Becassine reminded us that we really needed to clean up the room and put things back in order. None of us wanted to disturb Tasha and we all wondered just how long it would be until she recovered.
These past few days have been very special for all of us. Having Hitty friends with whom to share ideas and fun has just got to be the absolute best!
Next Chapter or Return to Beginning
or