Chapter One Hundred Five
Curiosity about new neighbors, whether next door or the next room, I am told is quite normal. It can then be concluded that we Robertson Hittys do truly fit into that category! These past six years since Esther entered the world of Hitty, she has shown interest, with few exceptions, only in wood hand carved dolls and so that made these new arrivals even more intriguing.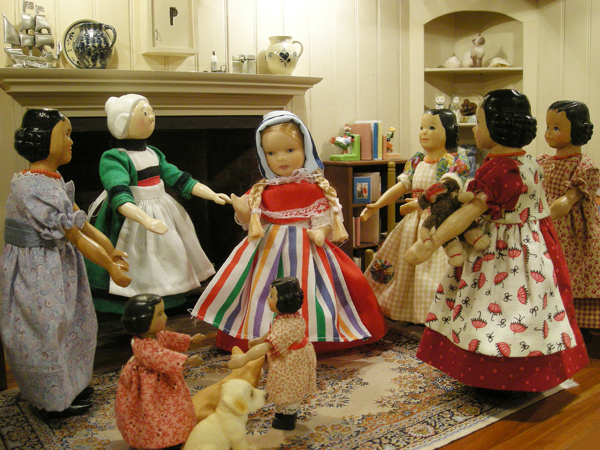 I will keep you in suspense no longer. First we met Amanda. She was a gift to Esther and she came from Funen, Denmark. She wears a national costume from that area. I think she was a little shy about meeting so many of us. Little did she know that there are more in store for her to meet!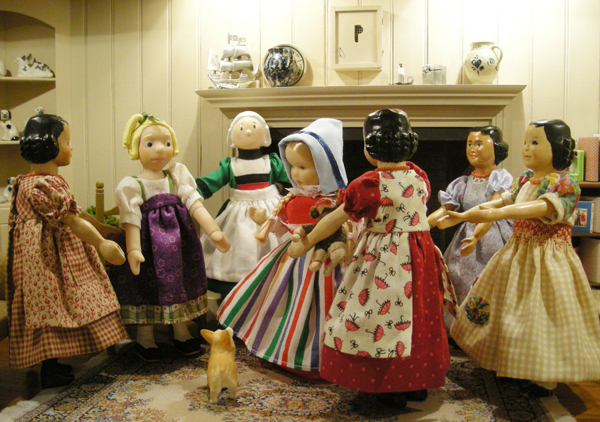 The very next day, Gretta arrived and she was just as shy as Amanda. She is made of polymer clay and was sculpted by Paulette Morrissey. Neither had ever met Hittys so we were as strange to them as they were to us.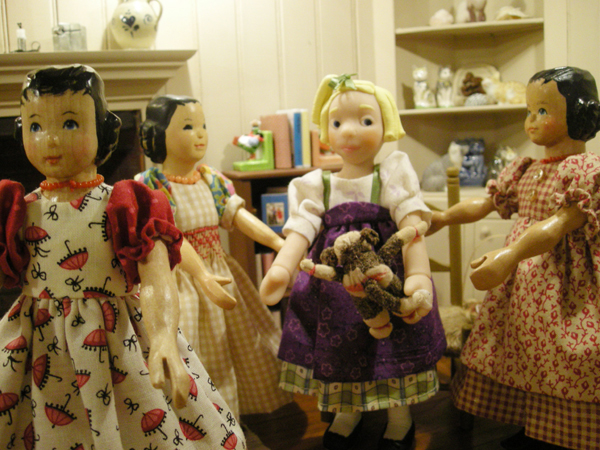 Hitty Colleen handed Gretta her sock monkey but she didn't give any indication that it was familiar to her. She held it by it's tail and looked quite puzzled.
In an effort to make her more at ease, I invited her to sit down and I explained about our family of Hittys and how we all came to live here starting with me, six years ago this month.
When all the introductions were complete, Esther took them over to the Bavarian Room where they will live. Gretchen and Gunther greeted them warmly and Gretchen served tea. It was the end of a long day for both of them and I hope we have been successful in welcoming them both. I am sure they will be very happy and comfortable living here in our doll community.
Esther is in the process of remodeling our kitchen and she hopes to have it finished in time to welcome our September/October Hitty visitors. Having Hittys visit is one of the most exciting events for us!
Next Chapter or Return to Beginning
or