Chapter One Hundred Eight
This past week we went along on a short trip to Ohio. Russell and Esther's destination was Charm, Ohio in Holmes County. The population is a mix of Amish and people of Swiss descent. The weather had turned quite cool so we put on cozy sweaters as we prepared to get into our travel bag.
It was a beautiful fall day and just perfect for a trip. The Robertsons had started their life together in Akron, Ohio so we took time on our way to go past the places they used to live. Many things had changed in these past 60 years but they were pleased to see some of the familiar houses still there. Both enjoyed a bit of nostalgia.
Upon arriving in Charm, we checked into the Guggisberg Swiss Inn. Russell had stayed there on previous visits with their son, but this was Esther's first visit. It is a lovely Inn built about 15 years ago by the same family that also has a cheese factory and restaurant nearby. Russell was disappointed that the flower baskets lining the balcony were not there but was reminded that he usually visits during much warmer weather.
Hitty Colleen was her usual self and insisted on exploring the items on the mantel in the lobby. First she spotted a little Swiss maid and baker, just about her size. She examined all the items such as coffee grinder and brass urn also.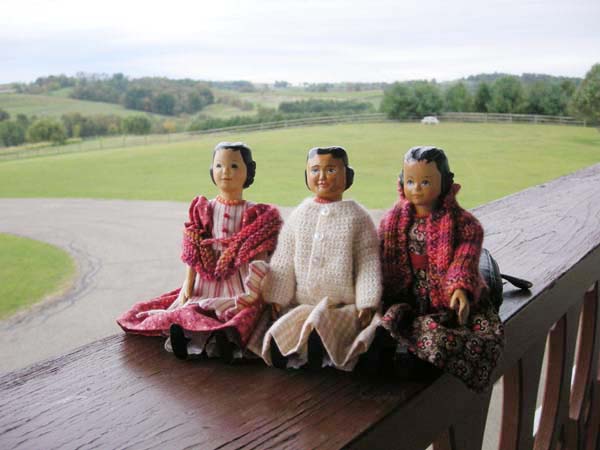 The next morning while waiting to go down to breakfast, we sat out on the balcony enjoying the beautiful countryside. It is so peaceful and far from the sounds of traffic.
One of the purposes of our trip was to visit the quilt shops in the area. Esther had read in the "Quilters Travel Companion" that there were several. She is not a quilter but quilt shops usually offer a varied selection of tiny prints that can be used to make Hitty dresses. She was indeed, not disappointed! We stopped at a total of five!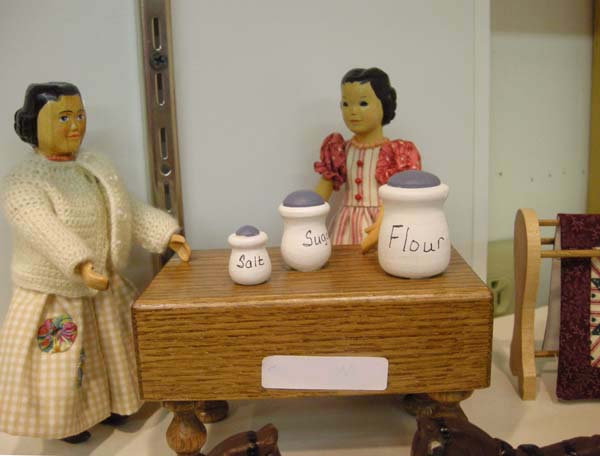 There are several small towns in the area and it is hard to distinguish one from another. They all have many little shops filled with Amish crafts. Bus loads of tourists visit almost every week-end in good weather. We too did some shopping and Hitty Carol and I found a table and quilt rack just our size.
We really didn't want to leave but Esther and Russell had only planned on being gone two days so it was time to head for home. Outside the restaurant where they stopped for lunch was this very attractive patch of flowers and pumpkins. Can you find us in this picture?
Next Chapter or Return to Beginning
or