Chapter One Hundred Eleven
December came so quickly this year! All of a sudden the holidays are here and one of them is gone already. We went to Maryland for a traditional Thanksgiving and now there are Christmas decorations, carols floating through the air, and packages arriving.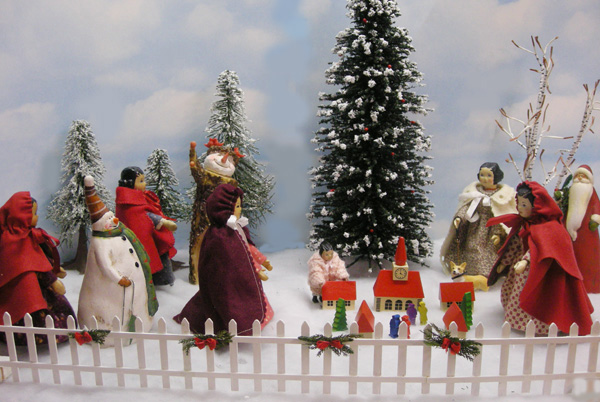 The weather was still quite reasonable so some of the Hittys went for an afternoon walk in a nearby park. This year's park decorations featured a tiny wooden village, a tree elf, a snow man and a Santa Claus.
HittyPat was particularly interested in the Santa Claus. This one was a bit different than ones she had seen earlier and she asked what seemed like a million questions. I am not sure who was the more curious, HittyPat or Tasha!
On the other side of the little village was a snowman with a very happy face. In some ways, the Hittys thought he looked like a clown.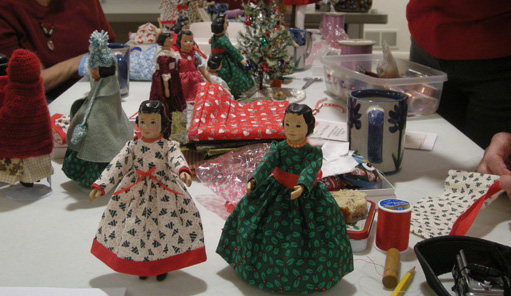 The day after the walk in the park it was time for Hitty Club to meet. In this picture Hitty Colleen and Hitty Carol have just gotten dressed in Christmas dresses, one is this year's gift and the other last year's. Jo was just making the last one as you can see! All the Hittys came in their Christmas finery. The ladies worked on various projects, one of which was padding brass hangers with lavender ribbon. Esther didn't do too well on making the tiny paper chain project!
Next it was time to decorate our rooms. It was fun opening the boxes from previous years. It was like what happens in most families as each time they unpack a tree ornament or place some decorations, it brings back memories of the Christmas that the item was acquired. We Hittys have lived here long enough that we too, have memories when items are unpacked. I remember my first Christmas here when the Hitty rooms were not in existence! Esther carried me from activity to activity as she addressed the cards and baked the cookies. The following year, HittyBelle and HittyPat had been added to the family and we decorated our finished parlor for the first time. The biggest thrill was the needlepoint stockings we hung by the fireplace. There was one for each of the three of us. Now, of course, there are a dozen Hittys living here and Esther certainly has not made nine more!
All of us were curious about the mistletoe and after I explained what happens when someone is caught standing under it, Hitty Colleen and Hitty Lara explored the possibilities but there were no young fellows around so they had to do with hugs from each other.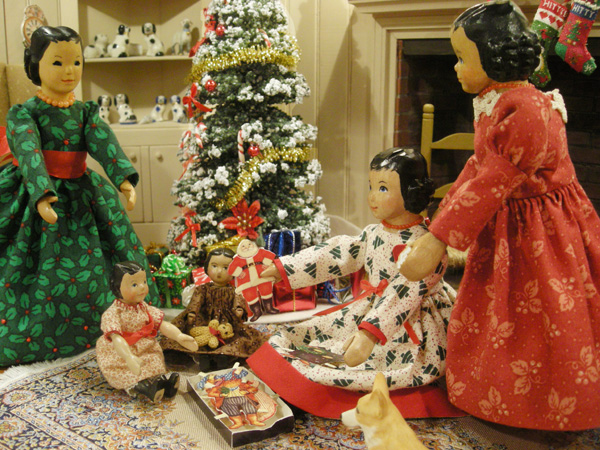 When we finished decorating we played with our Santa Claus paper dolls. Hitty Colleen put the main Santa outfit on him and HittyBelle waited to put on his hat.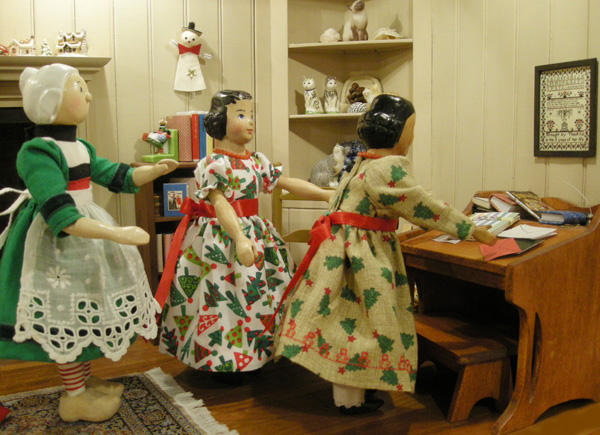 I finished our cards and gave them to Becassine to put out for the mailman. We are now ready for Christmas and I hope each and everyone of our readers have a wonderful and happy holiday season!
Merry Christmas and a Happy New Year
Next Chapter or Return to Beginning
or