Chapter One Hundred Fourteen
The past month has been a bit unusual. We took a trip but I don't have any pictures! We traveled to Williamsburg, VA to celebrate Russell and Esther's 60th wedding anniversary with the family but with 19 people attending we Hittys were simply not noticed. I suppose there are times when Hittys are not the center of attention so under the circumstances we were forgiving for being ignored.
The day before we left on the trip, a wonderful Becassine outfit with an adorable needlefelt goose arrived and HittyBelle put the outfit on immediately. Hitty Colleen was incensed that she was not the first and insisted HittyBelle take it off and let her wear it. She was successful in getting it off and now that is all she wants to wear!
As we prepare for Valentine's Day, it seems appropriate to welcome two more members of our family, Hitty Helen and little Michael by Judy Brown. Other than Gunther who lives in the Bavarian room, Michael is the only boy and I am sure that will call for some adjustments in this family of Hittys.
Little did I know how soon those adjustments would start. He was trying to help but spilled the box of valentine heart candy. He was ever so sorry. Perhaps it had to do with his size.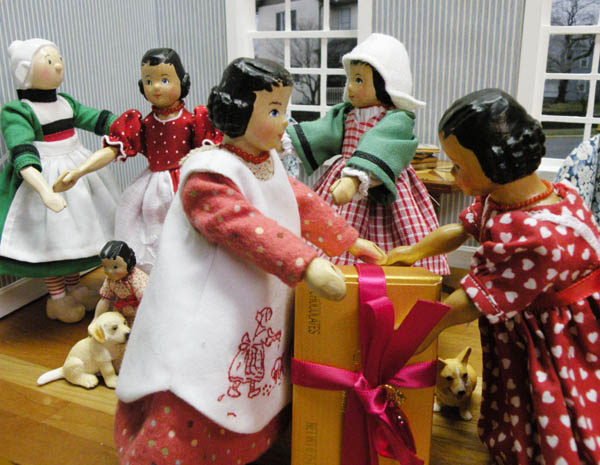 After all the candy was picked up HittyBelle and Hitty Lara tied a ribbon around the box of chocolates we bought for Esther. We know that Godiva is some of her favorite candy.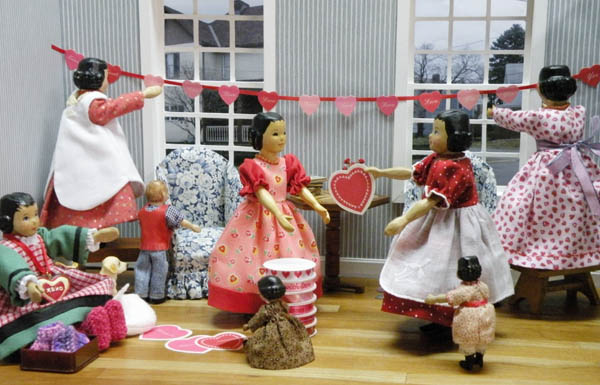 To help chase away the seasonal gloomy weather, we decided to decorate with all the valentine hearts, ribbons etc that we could find. Meanwhile Hitty Colleen opened some of the packages that came today and was delighted with knitted slippers and a heart necklace.
Did you know that over one billion valentines worldwide are sent each year? That makes Valentine's Day rank 2nd behind Christmas as the most card-sending holiday of the year! So, in keeping with tradition, we Hittys send Valentine's Day greetings to all our readers!
Next Chapter or Return to Beginning
or