Chapter One Hundred Eighteen
We recently came across a book about dolls. This piqued our interest. It was titled "The Ultimate Doll Book" by Caroline Goodfellow and as we carefully turned the pages we were pleased to discover that we had tiny dolls like some of those mentioned in the book. The dolls ranged from antique dolls to dolls popular in the early 1990s when the book was published. Hittys were not mentioned, however, a bit of a disappointment.
We read about china heads, Jumeau dolls, rag dolls, composition dolls, peg wooden and the like. Just recently we received a tiny china head and we have had peg wooden dolls for quite some time so we felt that we had a very nice collection.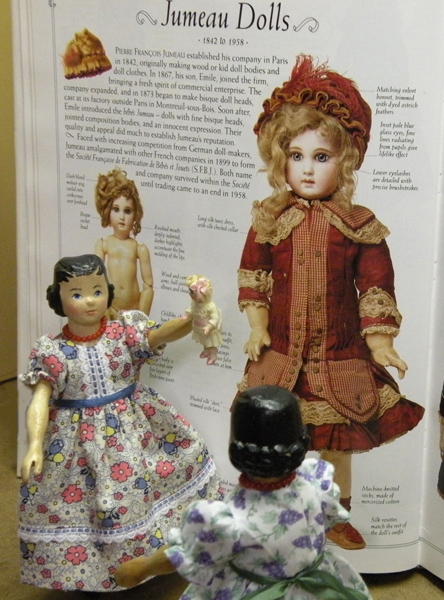 Hitty Lara got excited when she saw the page about the Jumeau dolls and held up the little one by doll artist Tracey Meeker to show Hitty Helen.
As quickly as I could, I rescued the doll and put it back in its box. I had received this doll as a gift from the Fifers on my first birthday. I don't I think Hitty Lara knew just how important it was to me. Hitty Lara said she really did not mean to treat the doll so carelessly.
At this point in our reading we gathered many of our dolls so we could compare them with pictures in the book. Hitty Carol has always been partial to the Izannah Walker doll that Esther had made from the Gail Wilson kit so that was one of her favorites.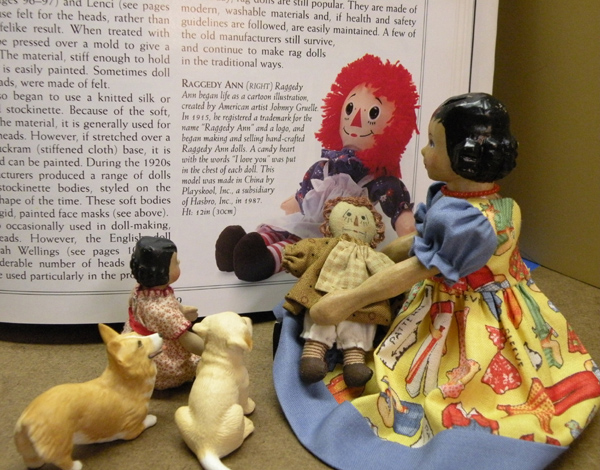 One of the most interesting sections was about Raggedy Ann dolls. Now that was truly special for us since we have those in various sizes.
Hitty Helen even went so far as to put on the Raggedy Ann costume. HittyPat, Hitty Bee and Michael had never seen the costume and perhaps they thought it was a very big doll!
Just as I began to wonder why HittyBelle and Becassine had not joined us, they came into the room. Becassine had gone to her room to get her doll. HittyBelle was not to be outdone by the Raggedy Ann costume so she had put on her new dress.
Again we Hittys have had a delightful day and are looking forward to the week-end with Hitty visitors. Oh, I do hope nothing interferes with their visit. I will be anxious to tell our readers all about it.
Postscript: A modified version of this chapter has been made into a little book and can be purchased at Hitty's Book Shelf.
Next Chapter or Return to Beginning
or