Chapter One Hundred Twenty
A beautiful sunny spring day brings out many things. Flowers get planted, lawns get mowed and little boys get curious. Michael is no different. The minute the lawn mower was left unattended, he headed in that direction!
Thank goodness Hitty Helen was nearby and reached him before he got into serious trouble!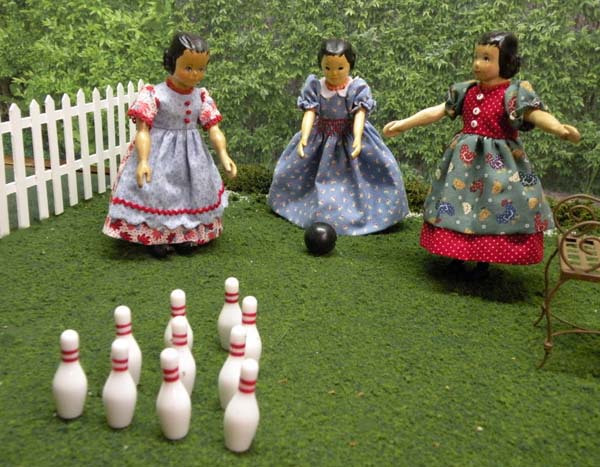 On such a beautiful day, some of my sisters thought it perfect for lawn bowling. Hitty Carol was the first to try. Hitty Colleen was full of advice as to how it should be done.
She was quick to demonstrate her skills. Nothing was about to distract her!
A strike! Perfect she exclaimed! I suppose one cannot argue with success.
We were all having an afternoon of fun. HittyBelle was rolling the ball for the little ones as Tasha and Puppy joined in the game.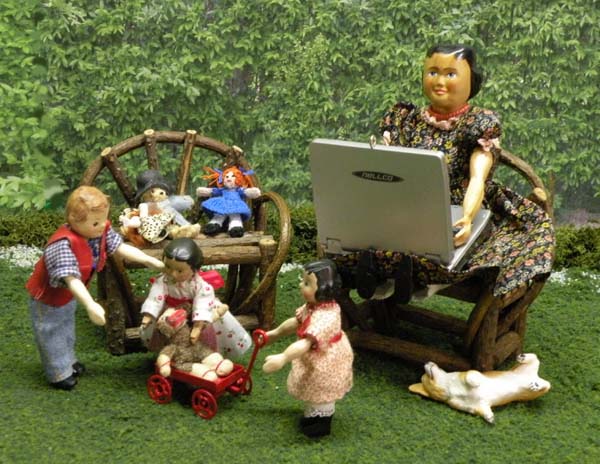 I too wanted to enjoy the warm sun but had many computer projects so to be mobile is exactly why there are laptops! I brought mine out to enjoy the day also.
Next Chapter or Return to Beginning
or