Chapter One Hundred Twenty Nine
There has been quite a bit of discussion about the game of golf in this family this summer. Two of the Robertson's adult children have just started playing. Well, we all know Hittys can not be left behind in any endeavor so we ordered the necessary clothing and equipment and two of my sisters set off to give it a try.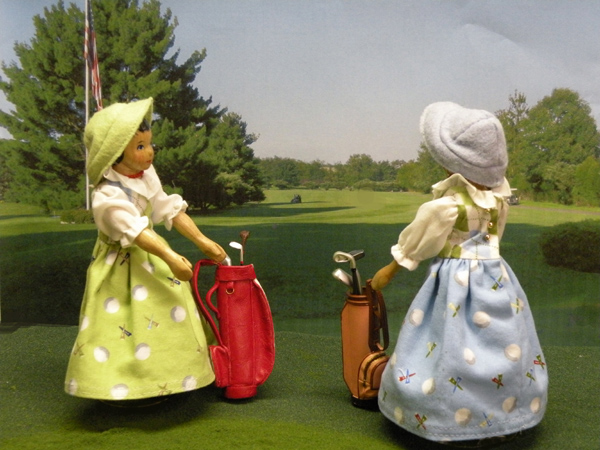 The popular local golf course is called Hartmann's Deep Valley. Esther and Russell go there quite frequently, not to golf, but to eat at the Water Hole Restaurant. All guests that visit also get to eat at least one dinner there and some, even more. Hitty Colleen and Hitty Helen put on their new outfits and were driven to the golf course. They stood a long time looking out across the course before deciding on what they should do next.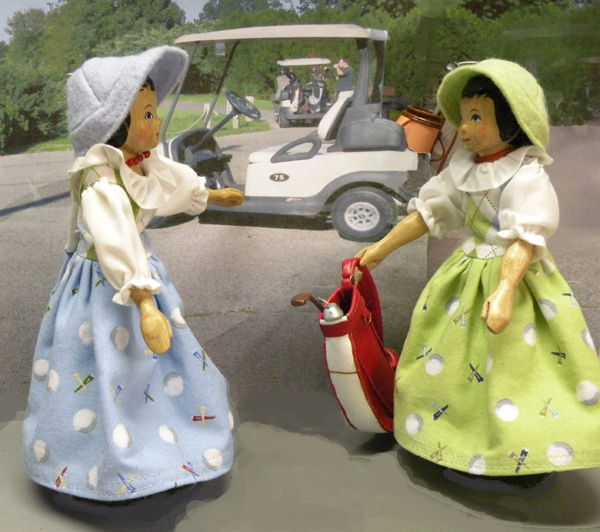 It soon became obvious, that golf bags are heavy items to carry so the first thing was to get a cart and load their bags into it.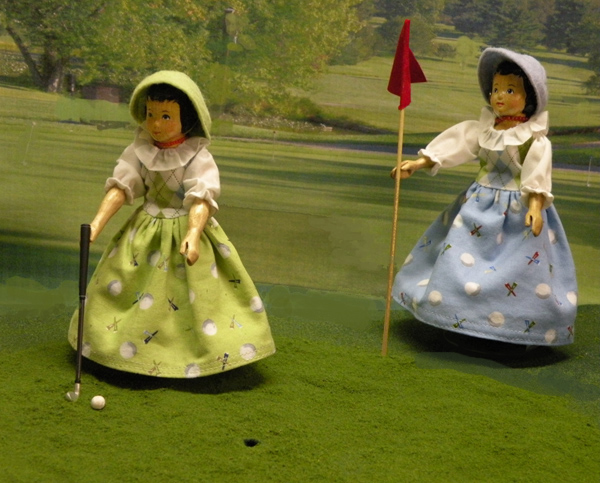 I don't know where they went on the course. Did they actually play a number of holes or just enjoy watching others play? We may never know. They did discover the practice green and both agreed that it was more 'their speed'!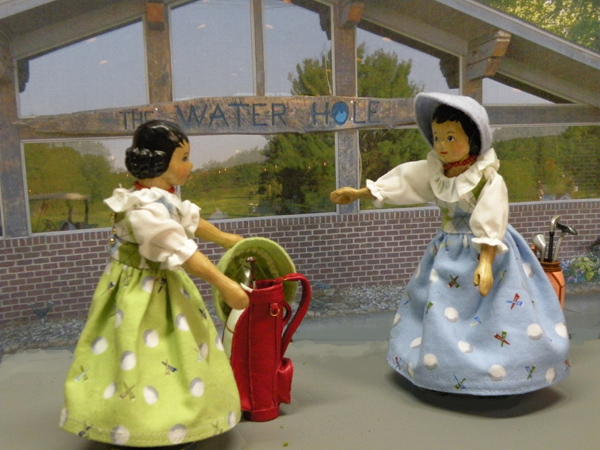 When it was close to the time to leave they stopped by The Water Hole. They were curious if Esther and Russell were inside watching from one of their favorite tables.
There was much excitement when they arrived home. Hitty Colleen showed us their score card and related the whole experience to us. She made it sound so interesting that some of the rest of us just might give it a try someday. There were tales about the number of balls that were lost, how some even went into the water and how keeping score for a beginner involved some two digit numbers! I believe words like 'par' will have to come much later!
Next Chapter or Return to Beginning
or