Chapter One Hundred Thirty
Oh what a glorious vacation we have just had! It was absolutely fantastic! We have just returned from Cape Cod and I will try to convey the wonder of it all.
The Robertson's daughter Carol and Martha had been to Cape Cod last year and wanted to make sure we got to see it too. They did all the driving and all the work! Russell and Esther were treated royally and we Hittys also! We traveled through the northern part of Pennsylvania where the leaves were turning to beautiful yellow and red colors! The higher elevations were spectacular!
It was decided to take the route through Connecticut which enabled us to meet our dear friend Barbra-Jean and Hitty Elizabeth for lunch. An unexpected treat followed, Hitty Elizabeth joined us for the trip! She hadn't been on a trip for some time so was pleased to go with us. Some of my sisters had never met her but she and I are old friends.
We arrived at our destination, the Cove at Yarmouth, in a downpour! I have never seen so much rain come down so fast and furious but once we got all our luggage in and got settled it stopped. It was beautiful sunny weather the rest of the visit. The temperatures were in the high 60's each day, perfect for sightseeing.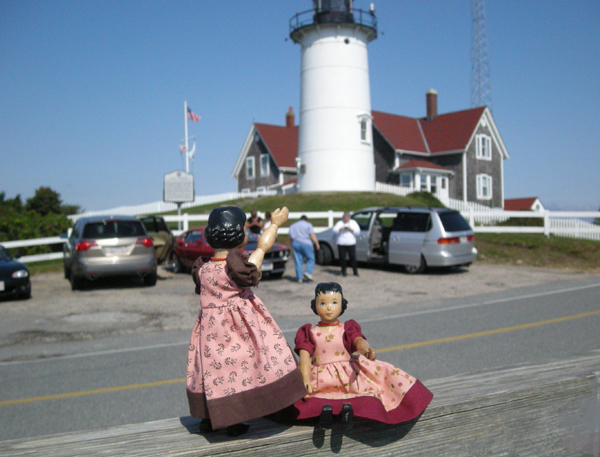 In the time we were on Cape Cod, we went from one end to the other. We particularly liked stopping to see the various lighthouses.
Beaches and ocean views were everywhere. Hitty Elizabeth and HittyBelle took a rest on a seaside bench.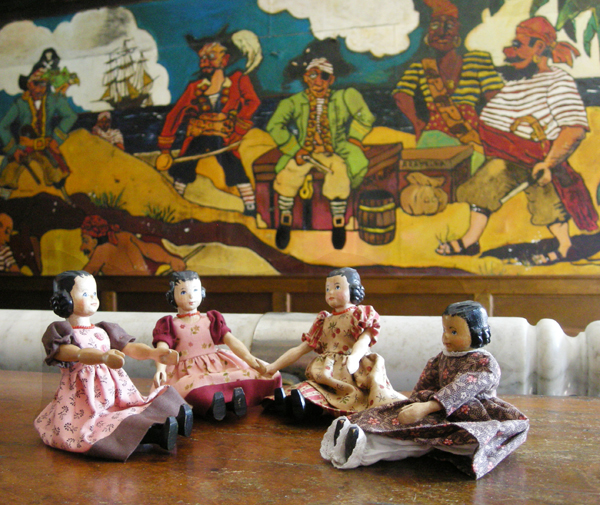 Our luncheon stops were very interesting. One place was called the Pirates' Cove. I think Esther was more interested in eating lobster bisque than anything else. Lobster bisque is not available in Zelienople and it is her favorite soup.
On the third day of our visit, we rode the high speed ferry boat over to the island of Martha's Vineyard for the day. The ticket agent had posted the water as 'choppy' but it didn't bother any of us. We noticed that most of the houses had cedar shake shingles because it weathers so well. This was also true of the houses on Cape Cod. We also took note that the main activity seemed to be shopping!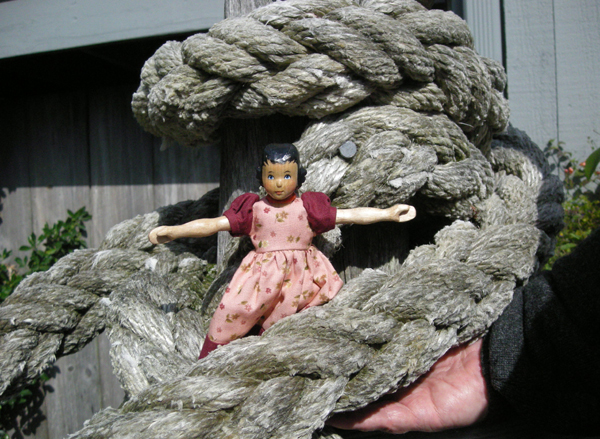 Hitty Colleen was always finding interesting photo ops and here she is amid a pile of ropes outside one of the restaurants.
The Henniman House, a preserved home of a sea captain, impressed us. The whale bone gate reminded us that the original Hitty had gone to sea on a whaling ship.
On our last day, we drove up to the tip of Cape Cod to Provincetown. It was decidedly more crowded. We sat on a bench and did a lot of people watching. We came across this strange creature but never did find out anything about it.
We are home now and have many pleasant memories. There were even more beautiful views of fall colored leaves on our way home. We now will wait for the leaves to turn in our area.
Upon our return, Esther immediately went to the computer to read about the Hitty event in the North Country that we missed. We really would have been there but the dates of our reservations in Cape Cod were at the same time. We hope all the Hittys attending the event had as much fun as we did.
Next Chapter or Return to Beginning
or