Chapter One Hundred Sixty One
Oh what a happy day! Esther told us there was a surprise package coming and we anxiously waited for the mailman. He came and went and no package, but when Russell came home and entered through the patio he had the package in his hand. It had come by UPS instead of the regular mail. We could hardly wait to get the box open. We had no idea what to expect. Esther had not given us even one clue.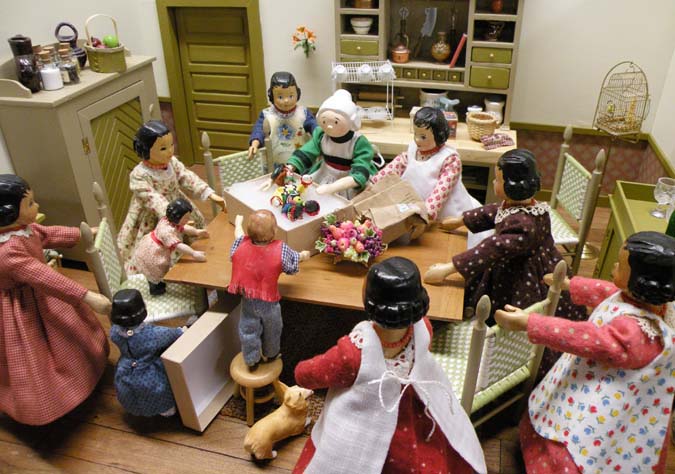 Becassine took off the wrappings and carefully opened the box. Inside was the cutest clown doll I had even seen! He was wearing clothes made of a button print fabric and had a big button for his hat. We immediately named him Mr. Butttons! By the end of the day, the 'Mr' had been dropped and he was simply called Buttons.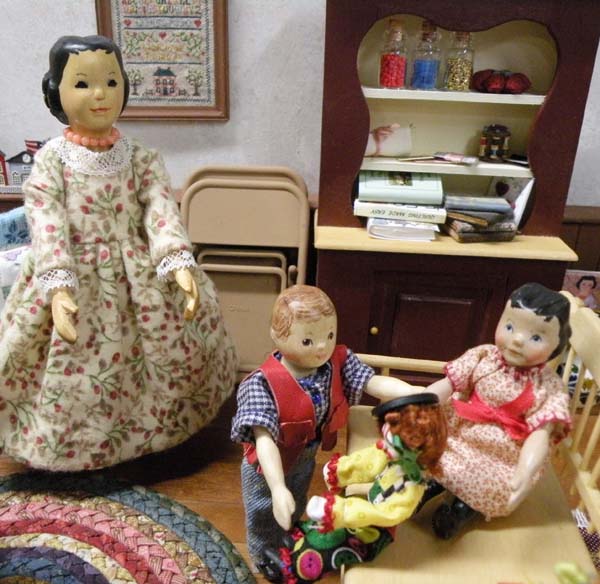 Michael was the first to get acquainted. He carried him into the other room and talked to him like he was another little boy. Hmmm, I wonder if it bothers him that he lives in a household with so many girls.
Every few minutes he would call out just what new tricks he could make Butttons do! He was so excited that he could turn his head, move his arms and stand him on a stool to make him just his height. I don't know when I have seen him so happy.
Hitty Colleen thought it an excellent idea to paint Buttons' portrait. Michael reluctantly said OK. Hitty Helen made sure Butttons sat up straight during the whole process.
None of the Hittys were especially pleased with the results of the portrait painting. Even Hitty Colleen wanted a better likeness so out came the camera and all were happy with the picture. All the Hittys think Buttons is the best clown ever!
Next Chapter or Return to Index
or