Chapter One Hundred Sixty Six
It has been a very busy week. From time to time our home has been bustling with people. First we had a big surprise. Hitty Sabrina arrived to join our family! She too is from Argentina as is Hitty Liza. Next the ladies from Esther's bridge club paid us a visit. We do love to introduce new people to our world and this was a wonderful opportunity. I don't think any of them will actually become seriously interested in Hittys but now they are more understanding of Esther's hobby.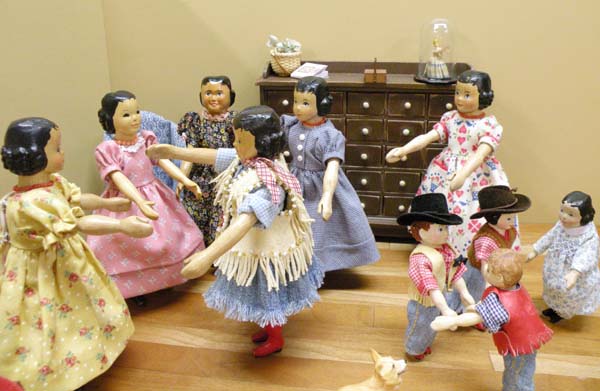 The week continued with a visit from Hitty Dallas Brown and little Antonia and Antonio. We always are happy to see Dallas. Hitty Paige and Michael were ever so happy to have playmates just their size!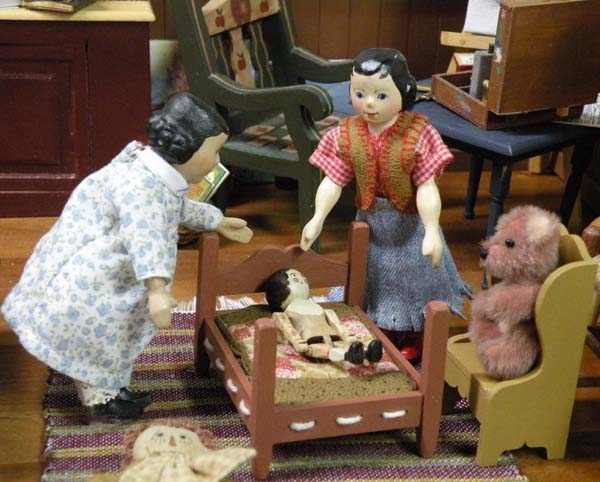 Hitty Paige was anxious to have someone to play with so she took Antonia in the other room to show her the peg wooden dolly as soon as greetings were over.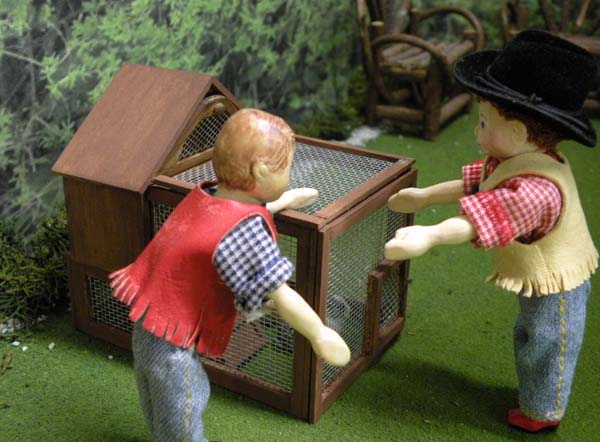 Michael immediately led Antonio into the backyard to see his rabbits. They are the center of his life this summer.
With the little ones so contentedly occupied, we older Hittys had an opportunity to enjoy a leisurely snack. We had just received some fresh honey and were delighted to have a chance to share it with a friend.
After a day of visiting, some of us went out to the playhouse to get away from the hubbub in the house. Dallas has been around longer than us and we always find it interesting to hear her tales of before our time. This visit, however, we had a lot of planning to do. We all hope to go to Texas in October and the excitement is already beginning to build. She has been there before so she offered tips on what to see and what to wear. Oh it is going to be such a fun time!
Postscript: Hitty Sabrina was carved by Gustav Trullet and painted by TC Vollum. Little Antonia and Antonio were carved by Judy Brown and are available by contacting her at: dollcarver@verizon.net
Next Chapter or Return to Index
or