Chapter One Hundred Eighty

We, or I should say Esther, received wonderful Christmas gifts and all with a 'Hitty' theme! I usually don't write a chapter this soon after Christmas but I just had to tell you all about them.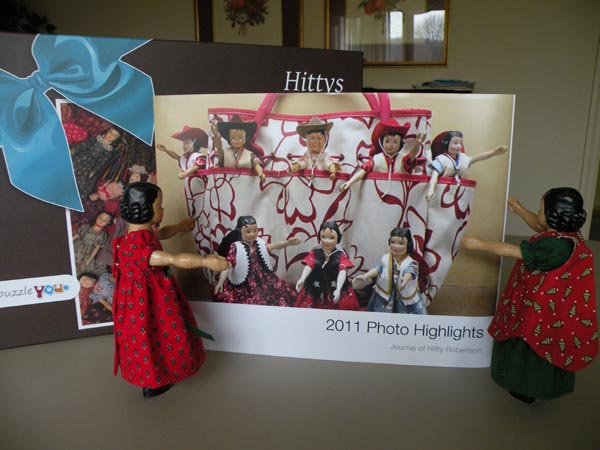 First was a beautiful book her daughter had made for her of the pictures from the 2011 chapters. This one was sized for people and had a hard cover with jacket.
The next package to be opened contained a big surprise! There we were in a 1,000 piece custom- made puzzle! Her son had laid us on a bed of our dresses, taken the picture and had it sent to Germany to have it put in puzzle form. He had taken the picture when he was home for Thanksgiving during the night when Esther knew nothing about it.
When Esther opened the box, it sure looked like a lot of pieces! We could hardly wait until she could start putting it together.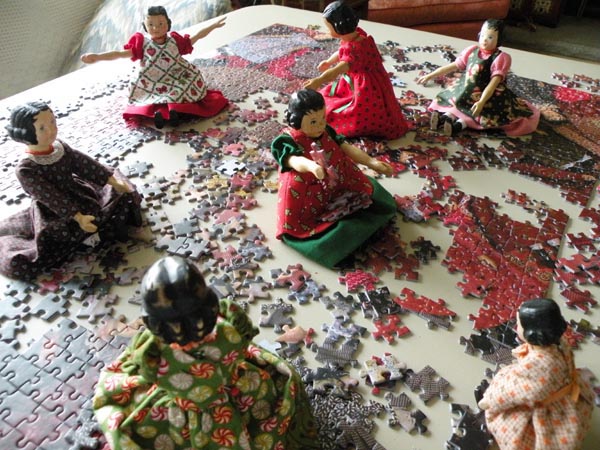 We couldn't really be of any help but we were so anxious to see how we looked in puzzle form that we sat right on top of the pieces!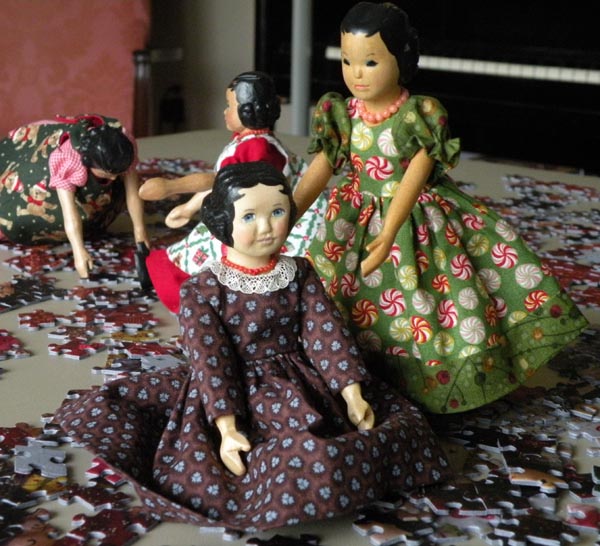 We all wanted to be involved. Hitty Ann couldn't find herself so Hitty Carol helped her. She was wearing the same dress as in the puzzle so she was not hard to find.
Hitty Colleen had no trouble finding herself and watched every step of the way to make certain Esther put 'her' together correctly.
Little HittyPat was so excited when 'she' was put together. As you can see, we are just a little bit larger in the puzzle than we actually are.
Here we are in the finished puzzle! I just stood back and took it all in!
All three of the Robertson children gave Esther a 'Hitty Christmas' ! Her other son gave her the funds to furnish the Dutch Baby House, and so dear readers, you will hear about that in upcoming chapters!
We have had a marvelous holiday and wish you all a
HAPPY NEW YEAR
Next Chapter or Return to Index
or