Chapter One Hundred Eighty Four
Winter, will it ever come to an end? This past week or so it feels like it will go on forever. I would say we Hittys were bored but that is a word that is frowned upon in this household.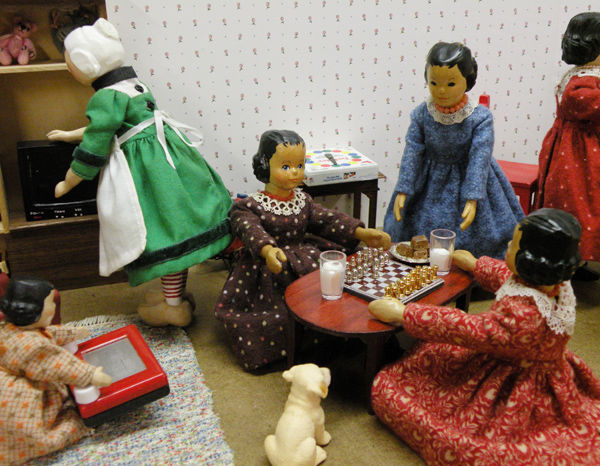 Enough was enough of just sitting around doing nothing and so we decided to have a game day. HittyBelle and Hitty Catherine thought a game of chess would give their brains a work-out. Becassine turned off the TV to make concentration easier. Both Hittys actually looked like they were going into battle!
HittyPat found the Tinker Toys and put together a rather nice fan. She even got admiring comments.
Monopoly has always been a favorite. It is one of the easier games for Hitty Pilar and Hitty Sabrina. I had to chuckle at the sums used in the game as they are so far from today's prices but I understand the game was popular even when Esther was a child. It had its beginning in 1934, is sold in 103 countries and published in 41 languages. No wonder our Argentina sisters found it familiar!
Later in the day when the chess and Monopoly games had ended, I set up the Scrabble game and enticed several others to join me. We Hittys do enjoy games using brain power. We ended the day with quite a lengthy game.
The only signs that spring is forthcoming are a few crocuses several houses up the street. At our house we have only bleak bushes and occasionally the sun breaks through. And so dear readers we continue to wait. There will be some relief, dare I use the word, St. Patrick's Day and Easter are just around the corner!
Next Chapter or Return to Index