Chapter One Hundred Eighty Five
A week with a double celebration! March 12 is the 100th anniversary of the Girl Scouts of America and March 17th is St. Patrick's Day. We Hittys have tried to recognize both.
We put on whatever green dresses we could find. Most of them were from Hitty Club celebrations from past years. Hitty Colleen was the first to put on one of the party hats. Hitty Catherine, not knowing there was a bag of them on the workbench, was ready to take it from her! She was sure she needed it more than her sister.
Becassine was even talked into wearing a party hat. She looked so silly. Actually we all did, but crooked or straight we thought it fun to wear them.
We Hittys aren't fond of corn beef and cabbage which I understand is served all around town this week so we ordered pizza. Dressing all in green, party hats and lots of pizza, it certainly created a holiday atmosphere!
This being the week of the Girl Scout's 100th birthday, HittyBelle had gone off to one of the local events. She returned just in time for dessert.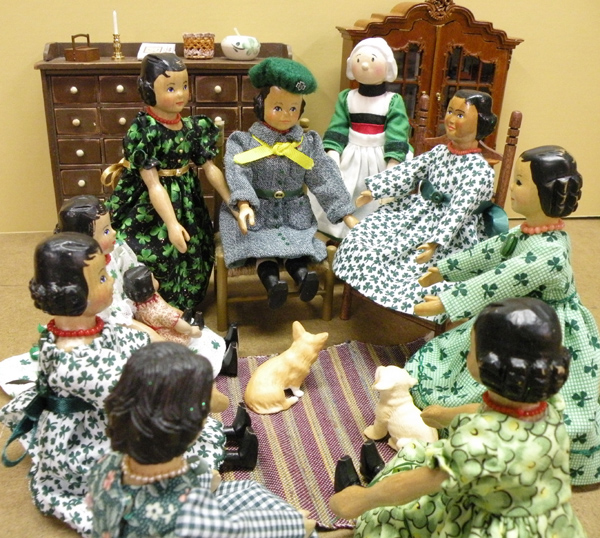 We were anxious to hear what she had to say so we gathered around her as she filled us in on just some of the Girl Scout story. They were founded by Juliette Gordon Low on March 12, 1912 in Savannah, GA. Girl Scouts describe themselves as "the world's preeminent organization dedicated solely to girls." Listening to HittyBelle made us all very proud of the Girl Scouts of the USA!
Next Chapter or Return to Index