Chapter One Hundred Eighty Six
Happy Easter everyone. Oh what a glorious time! We Hittys are delighted to have such wonderful weather and another holiday to celebrate. It was a delight to be outdoors, dress up, 'stroll down the avenue', have an egg hunt and all the trimmings of the day.
Becassine was right on target with the traditional ham. She must have spent the entire day before cooking it and I must say, it looked absolutely perfect!
It is hard to believe all the goodies. Easter baskets filled to the brim plus chocolate bunnies, colored eggs, yellow Peeps, stuffed bunnies and fluffy chicks. What a delight!
First on the agenda for the day was an Easter egg hunt in the yard. The little ones were so excited. We all trooped outdoors but first before the hunt, Hitty Catherine insisted on taking our picture before everyone scattered.
Hitty Paige was the first to fill her basket. She had an eye for spotting just where the eggs were hidden. Of course they had been placed rather easy to find as to make the hunt more fun than challenge.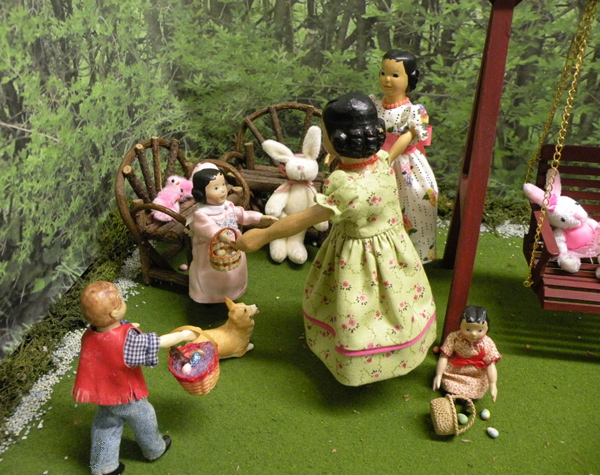 The little ones had such fun! We older Hittys enjoyed watching them more than hunting eggs ourselves. Despite HittyPat's problem of keeping the eggs in the basket, she remained her happy, cheerful self.
No Easter is complete without the 'stroll down the avenue' as the song suggests so we put on our 'Easter bonnets' and went for a walk. Hitty Catherine dutifully recorded the event.
We wish all our readers a wonderful and Happy Easter!
Next Chapter or Return to Index