Chapter One Hundred Eighty Seven
It is spring cleaning time again. Dust never seems to take a rest and silver keeps tarnishing. This year we told Esther we would help clean Twin Manor. As you know, it is 1/12th scale and we must be extra careful, so we really did more watching than actual work but found it interesting.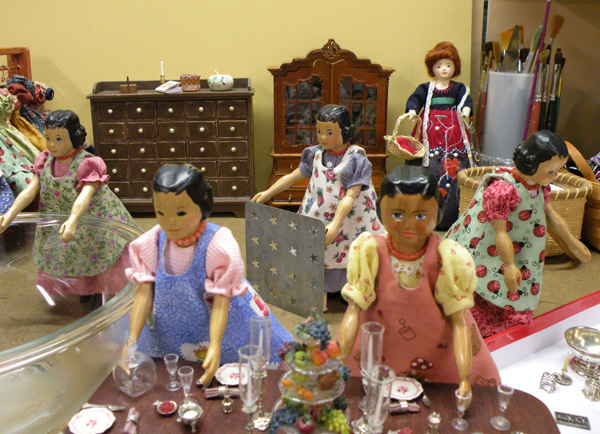 First she collected all the glass and silver pieces from various rooms in a box and brought them to the workbench. The dining room table was brought over separately. There is more glass and silver in the dining room than any other room.
She cleaned the silver by putting an aluminum square in a bowl of very hot salt water. Each piece was carefully put in the water for about 30 seconds, then rinsed and dried. Several years ago a miniaturist from Germany had told her about this method and sent her the aluminum squares. It is so much easier than using a silver polishing cloth and much quicker.
Next all the tiny glasses and globes for the candlesticks were washed. These pieces are even more delicate than the silver as they are hand blown crystal.
When all the pieces were clean and shining brightly again, she carefully put each piece back in its place and returned the table to the dining room. Hitty Carol gave it its final inspection.
All the floors were dusted with a large soft paint brush. We just watched as she carefully dusted the staircase and lifted each piece of furniture. A human hand is too large for some of the places and the paint brush did the job perfectly.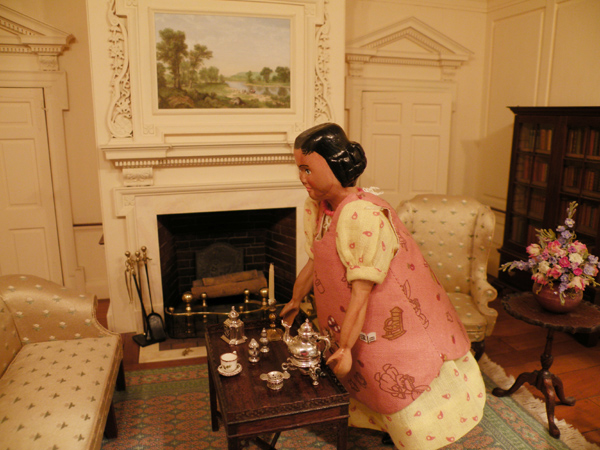 I checked to make sure she had gotten all the pieces back on the tea table in the parlor.
When it was all finished we took a walk through the house to see if we noticed anything out of place. Hitty Carol and Hitty Colleen checked the sitting room and found it to be in order.
As we prepared to leave Twin Manor and return to our own rooms, Hitty Carol took one last look in the master bedroom and stopped to fluff a pillow.
Twin Manor is now clean for the coming year. Visitors come to see it and when they do, we Hittys rise to the occasion and let them know it is not the only art form in this house!
Next Chapter or Return to Index