Chapter One Hundred Eighty Eight
I heard squeals of joy from upstairs and now I know what it was all about. The mailman had made a delivery and look who jumped out of the box! We Hittys have a new and different member in our family of wooden dolls. Her name Ima is embroidered on her petticoat and she is by artist Judy Brown. Instead of black hair like ours, hers is red and she is articulated. We will probably grow to envy her ability to move easily and I just know there will be a reaction to those red shoes from Hitty Colleen!
It wasn't long until Esther brought her downstairs to meet us. She was immediately accepted as one of us and Becassine didn't even complain about having another charge to look after.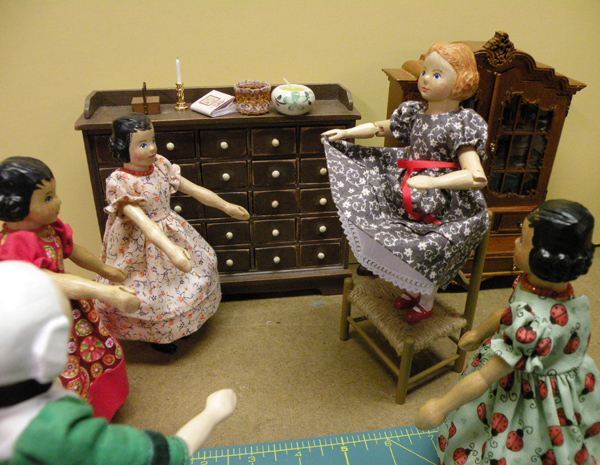 Oh my we were so curious! We had question after question to ask her about the differences. She hopped up on a chair so we could see more clearly. She said her articulated knees and elbows were the movement difference and of course, we all noticed the red hair and those wonderful red Mary Janes.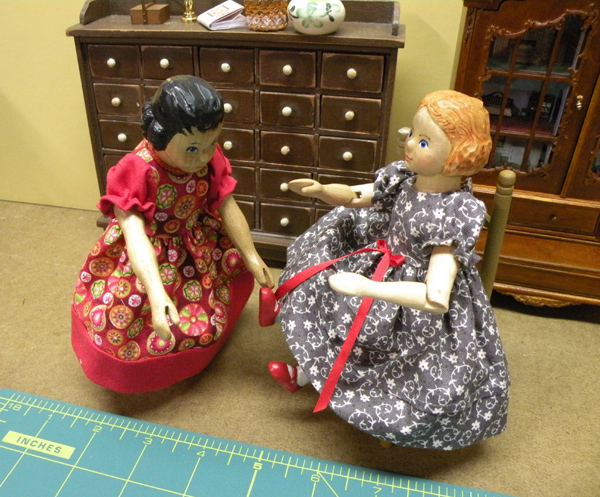 Hitty Colleen just had to touch those shoes! She wanted Ima to take them off and let her try them on but they do not come off, the same as our black ones do not come off. I do hope she gets over her envy of them.
We explained that this was Esther's workbench and we spend quite a bit of time here. The first thing she noticed was the Baby House and it was familiar to her.
Then it was over to the craft room to meet the little ones. Hitty Catherine followed with the camera and recorded the meeting. She took pictures all day so Ima would have a record of her first day with our family.
Becassine and I asked her to sit down and chat with us at the end of her long day of meeting all the Hittys and trying to remember their their names. We know this is all new for her joining our Hitty family but we do have things in common. She is wood and Hitty size so we are off to a very good start. She explained that her name "Ima" means "I'm a friend of Hittys" and refers to dolls made only by Judy Brown in this style. We are delighted to have her as a family member and very typical of little girls, we envy those red shoes and she envies our coral necklaces!
Next Chapter or Return to Index