Chapter One Hundred Ninety One
It has been a very busy couple of weeks with a lot of fun times. Just yesterday, our visitors from South Africa and England left for Vermont and then on to the Guild School in Maine. They really had come to see the miniatures but we Hittys made sure they noticed us! Prior to that Hitty Dallas and family had been here to work on a program for the PA Retreat and that is what has resulted in the excitement of the day. A box has arrived - she sent a gift!
Becassine immediately recognized what it was and knew there were many pieces in the box. She insisted we get a table to set the items on because it was safer than having them spread out everywhere.
Oh what fun! My sisters got so excited as they unpacked the box. They were very careful and admired each piece as they removed the tissue paper.
We had hoped that someday we too would have one of the official Hitty tea sets and now one was ours! The tea sets had been made quite awhile ago and are not readily available so we are especially pleased.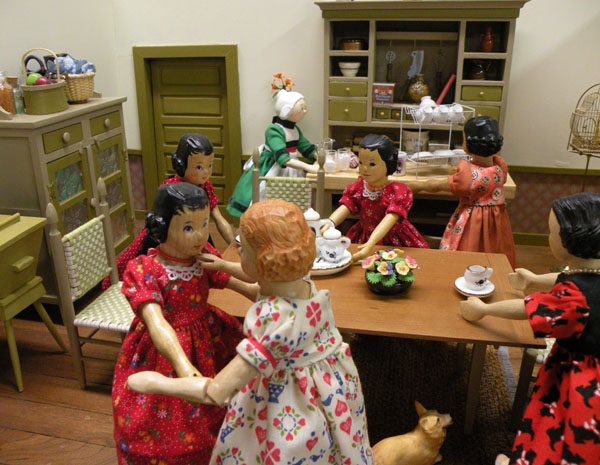 We carefully took it to the other room so that the others could get a better look. It was then that Ima noticed that we all wear coral necklaces! She had been told that her first day here but only now did it register. I do hope a situation does not develop that she wants one too. Hitty Colleen has felt that since she can't have the red shoes, she at least has something that Ima doesn't have!
Next Chapter or Return to Index