Chapter One Hundred Ninety Six
Ten years ago this week I started writing this Journal. Oh how well I remember the day I arrived! Esther carried me around for hours and finally found a chair that I fit into and a beautiful crocheted scarf to wrap around me. I had arrived in just my undergarments as she had told Bill Fifer, my maker, that he was not to wait for my dress to be finished - just get me to her as quickly as possible. She had never heard of Hitty until months before and had not read the book until the week before. She finished the book in one day and was determined to get a Hitty as quickly as possible! (Chapter #1)
For 25 years Esther had been involved with fine scale miniatures. That was the start of her hobby life. The Robertson children were all grown with families of their own and she now had the time and resources to play!
Like many Hitty families, I was to be an 'only' Hitty. That lasted five months and then our family started to grow. HittyBelle, carved by Judy Brown, was the first to join me and she and I have welcomed many more over the years. Today we are quite a large family!
There were so many things to be done. There were no rooms for a Hitty to live in as everything was 1/12th scale and so building rooms our size was first on the agenda. Our living area started with two rooms, a parlor and a bedroom, with others being added over the years. One could say that we Hittys have taken over, even to the point that Esther's workshop area had to be expanded!
So many events have happened and I have tried to chronicle them as they occurred. My Journal is now 196 chapters long! I will mention a few highlights but please remember, those not mentioned were certainly important also. The numbers after the event named are the chapters where I tell the whole story.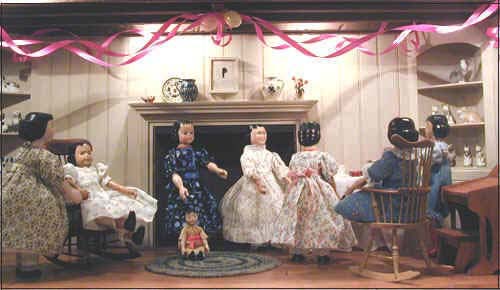 I must mention my first birthday. What an exciting event! Visitors from Connecticut, Eastern Pennsylvania and Kansas City came to help me celebrate! Chapter #22 describes the whole celebration.
About two years later, we met a group of people who also loved Hitty and the Hitty Club was formed. For over five years, it met regularly at our house. While the ladies would do crafts, we would celebrate the original Hitty's birthday, have parties when visitors came and then get together in May with the Brown, Fifer, and Male Hitty families at various locations - here (#50), Brandywine Museum to see the original Hitty (#67) , Bedford. PA to view covered bridges (#81) and Niagara Falls (#98).
A get-together with friends at Niagara Falls (#98)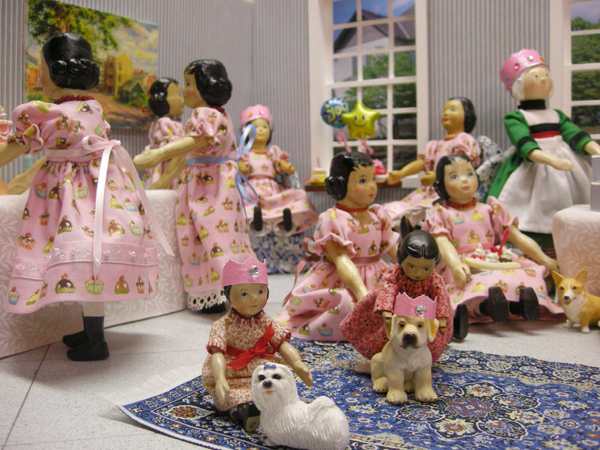 One of the Hitty Club parties (#104)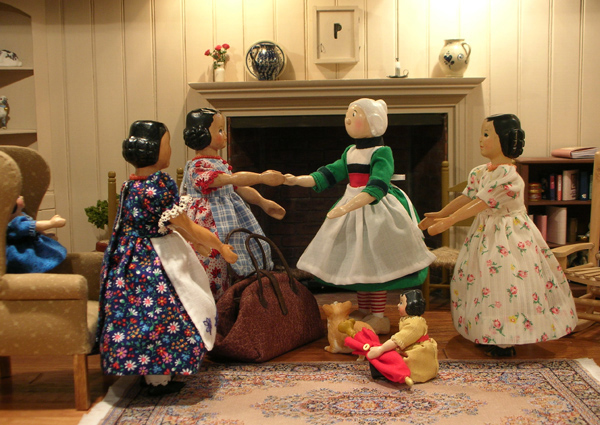 In between all the happenings, our beloved dog Tasha (#51) came to live with us and also came two most welcome additions to our family - Becassine (#82) and Ima (#188).
There were also Hitty Events. The first we attended was the Williamsburg Hitty Reunion in 2004 (#40), Bavarian Event in Leavenworth, WA (#70); Stockbridge, MA (#73); Guthrie, OK #(89) and the Texas Hitty Gathering (#175). We are now looking forward to next month and the PA Retreat!
We celebrated the holidays - Valentine's Day (#46 & #114); St. Patrick's Day (#185); Easter (#117 & #186); 4th of July (#83 & #102 & #149); Halloween (#23 & #109 & #132 & #176); Thanksgiving (#42 & #156) and Christmas (#9 & #26 & #59 & #111 & #135 & #157 & #179).
Halloween party (#109)
Christmas (#157)
There were other events that marked our lives. I remember making little books, a piano recital (#78), having our own choir (#58), a program of the scenes from the book(#171), going to museum openings (#31 & #97), Esther trying her hand at carving and finally learning to sew our dresses!
There have been vacations and visits with the family which stretches from the east coast to Kansas City. We weren't always the main attraction on these visits but enjoyed what attention we did get - some of it a bit alarming! (#48).
This Journal has also reflected the advances in digital cameras over the years. It is evident in the quality of the pictures. I believe Esther said she started with 1.3 mega pixels and now we are up to 14! We Hittys have faced at least five different cameras.
There have been so many happy and exciting times I cannot mention them all but one stands out as particularly special. It was Spring Fling (#146a & #146b) here at our house in May 2010. Our friends from Connecticut, DC, Massachusetts, North Carolina and Virginia all came and played for four days! There were crafts, a garden party and a picnic. Every family brought their Becassines who exchanged tales of their charges! I know the local restaurants were happy too, as no one was burdened with cooking!!
This brings to an end my musing about the past ten years. It has been wonderful and our Hitty family and the Robertsons definitely look forward to many more years.
Here we are - the Robertson Hitty family!
Next Chapter or Return to Index