Chapter One Hundred Ninety Eight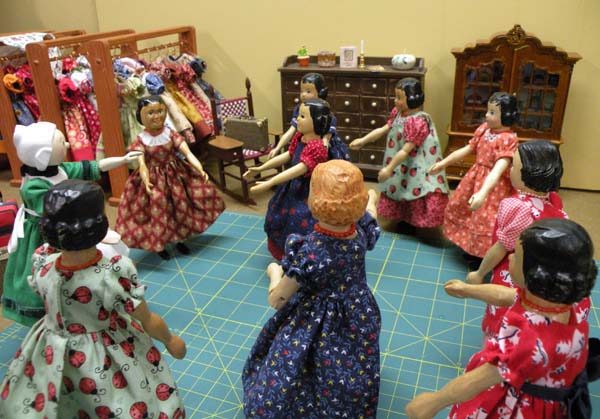 September is finally here and it is time to get ready for the PA Retreat! It seems like we have been waiting forever. Just like last year, we got involved in making our gifts and enjoyed hearing all the news about the upcoming event, but one of the highlights is when it is finally time to get ready to go! When it was being decided as to which of us was going to make the trip, Hitty Carol made sure she was front and center! Having missed last year because she wasn't feeling well, she was determined she was not going to miss it this year!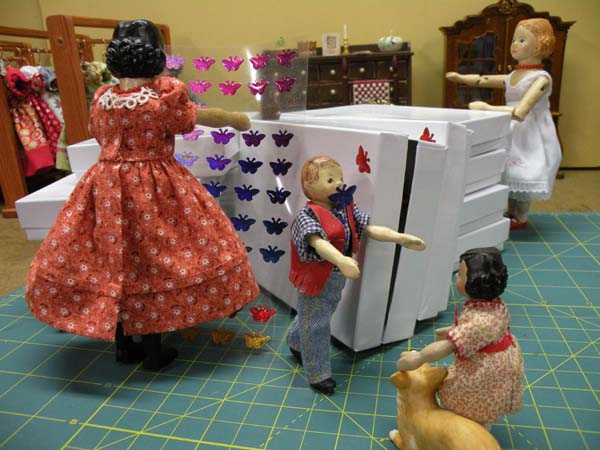 We helped packaging and labeling the gifts for exchanges. Michael took one of the stickers used to identify various boxes and had fun teasing HittyPat. Little boys can find uses for everything!
Next it was time to chose which dresses to pack. This event is being held at a Quaker Retreat so I chose to wear a dress like our ancestor Hitty wore when she lived with the Pryces, a Quaker family in Philadelphia. The Pendle Hitty Retreat is near Philadelphia and the event is called "A Hitty Meeting of Friends".
Before we changed and packed, Becassine made a list of who was going. She will stay at home and care for the little ones and those who will not be attending. I wish we could all go but Esther said we do have to leave room in the car for others with whom we are traveling.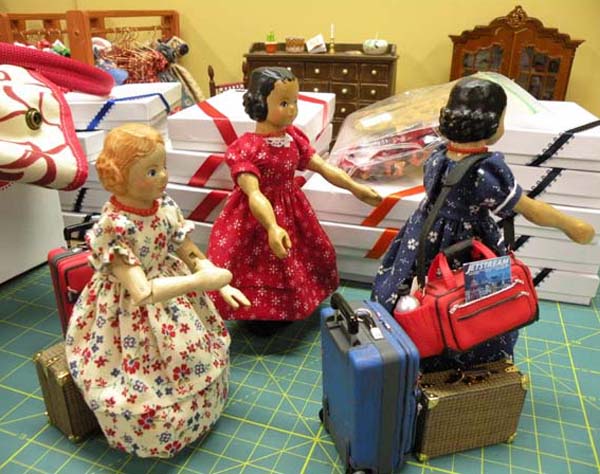 Preparations were now complete so we had time to catch our breath and talk about all the friends we are going to see again. It is always exciting to meet other Hitty families, both ones we already know and new ones. Being new to our world, Ima was particularly interested in hearing about what was ahead. Hitty Colleen just would not join in and wanted to be on her way.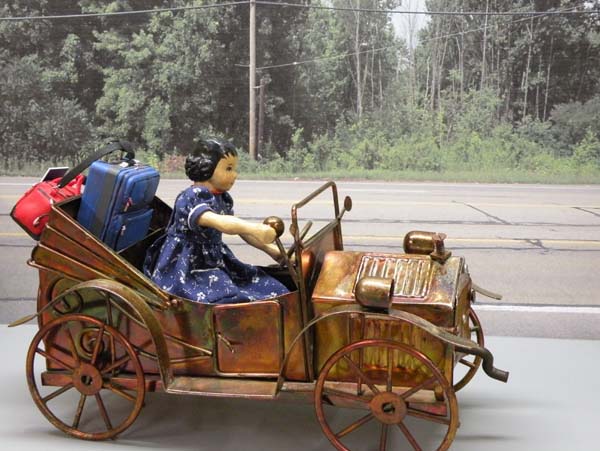 Hitty Colleen is a very determined Hitty! No amount on reasoning would change her mind. Knowing full well that our car is not a speedy means of transportation did not deter her. Hopefully she will meet up with us at Pendle Hill. We shall see!
Next Chapter or Return to Index