Chapter Two Hundred One
We are home again and have had a wonderful time in the beautiful and interesting Catskill Mountains. Fall foliage, deer, wild turkeys and alpaca were just some of the sights. There were many points of interest we hadn't expected. This was the land of Washington Irving's stories and Woodstock!
We arrived at our destination, checked in and were ready for adventure. We had very comfortable accommodations at a time-share at the Villa Roma resort near Callicoon, New York. Except for light showers one morning, we had beautiful weather with temperatures near 60 degrees each day. The trees showed off nature's beauty with their fantastic fall colors!
On our first day we didn't venture too far but were treated to beautiful views wherever we went.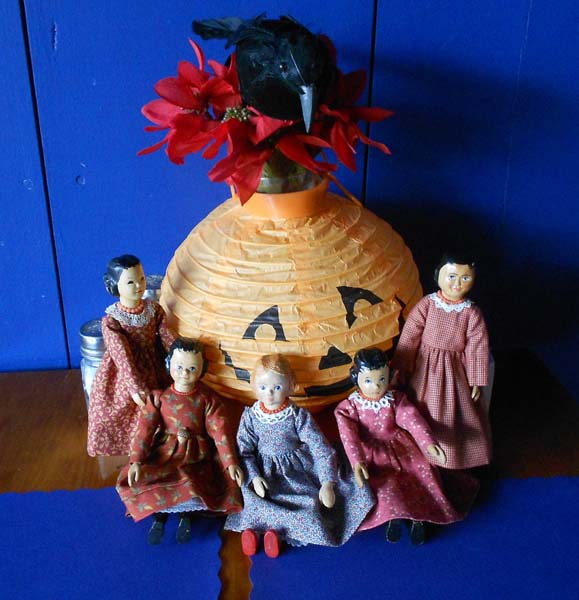 We stopped for lunch at a local restaurant and Esther used the center piece on the table for a photo op for us.
The window box outside of the restaurant was another photo op Esther could not resist. Hitty Carol was delighted to be the subject. Halloween decorations were evident almost everywhere we went.
The following day we set out to visit little towns along the Hudson River. Our first stop was a Ukrainian village high in the mountains. I believe it is still in use part of the year.
Another stop was the French Huguenot Village at New Paltz. All the houses were made of stone built in the early 1700s. Their form of government lasted over 100 years. My sisters decided to rest on the porch of one such house.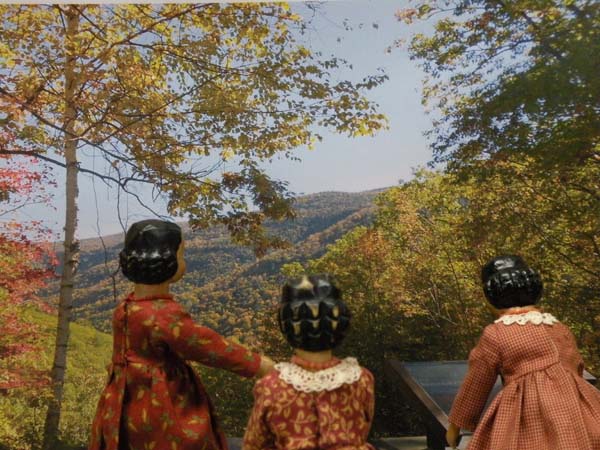 One of the most beautiful scenes we came across was the site of a Thomas Cole painting. He was the leader of a group of painters around 1830 known as the Hudson River School and was called the father of American landscape painting.
We had many interesting stops as the time went by and saw strange characters almost everyday. Each one seemed more strange than the one before!
As each strange character would appear, Esther of course would use it as a photo op. She couldn't resist this cat made out of shingles!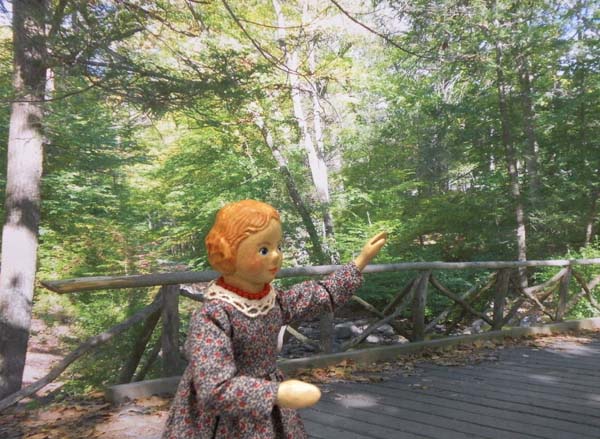 As I mentioned earlier this was the land of Washington Irving and we wanted to track down the areas of the well known stories. Our only disappointment of the week was that we had missed the Rip Van Winkle festival in the town of Catskill by just a few days, however, we were not to be denied the scenes from "The Legend of Sleepy Hollow" near Tarrytown. We visited the cemetery where Irving is buried but our biggest thrill was the bridge where Ichabod Crane disappeared! I am glad we went to see it during the day because I didn't want to take any chances that the Headless Horseman would appear!
We brought back a souvenir for those left at home and delighted in pushing the little button that made scary sounds of that Headless Horseman!
No trip to the Catskills could be complete without a visit to Bethel Woods, the site of the 1969 Woodstock Music Festival. There is now a large visitor center on the site where for several days over five hundred thousand people gathered to listen to music being played round the clock! It is hard to imagine the multitudes that once were here on these peaceful grounds.
Like all vacations, they do come to an end. The saying 'there is no place like home' certainly is true. Now it is time to prepare for a day with Hitty Club, Halloween and a visit from our Boston friends!
Next Chapter or Return to Index