Chapter Two Hundred Six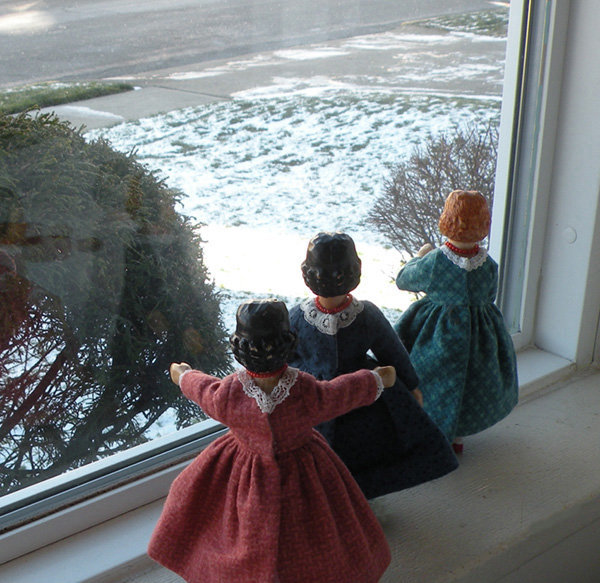 I suppose one would call this the heart of winter. That would apply to both January and February in this part of the country. We haven't had many visitors, everyone seems to have hibernated. From what we can see out the window, I don't blame them.
A lot of the conversation these days is about the TV show "Downton Abby". I think everyone is watching it. When the day finally arrived for the first episode, we asked Esther if we could watch also. It would help us to understand what all the fuss is about.
It is interesting, I must say. We particularly enjoyed seeing the American actress, Shirley MacLaine, in a very British program. My oh my how life here is different from the family depicted on the program! I just can't picture this household, or any other with which I am familiar, dressing so formal for dinner or living in that style.
While we were upstairs we showed Ima the Hitty setting that is displayed on the table by the front door. Esther was so impressed with one like it when we attended the Hitty Bavarian Event in 2006 that she used the same idea. It is the only evidence visitors see in regard to Hittys in the house unless they get invited downstairs. At that point, they have no choice but to let us be the center of attention. In my opinion we even rival Twin Manor, in interest that is!
Esther's current project has been to make herself a hard- back, full size book on the iMac about our fashions. Her daughter's Christmas gift to her in 2011 was one of these books containing a selection of Hitty Journal chapter pictures from that year. Ever since then, Esther has wanted to make these books herself and has finally learned how to do it. She is using the same title as she did with our little fashion book of several years ago - "Dressed for the Occasion". Neither Esther nor I could believe it took six and a half days of photographing! Pressing each outfit, changing our clothes and setting up a simple background for each picture consumed hours. We all are awaiting the arrival of the finished product and keeping our fingers crossed that it is a success!
As I close this chapter, I want to wish our ancestor Hitty a very Happy Birthday! We will celebrate quietly as the Robertsons' 64th wedding anniversary takes preference on that day.
Next Chapter or Return to Index