Chapter Two Hundred Ten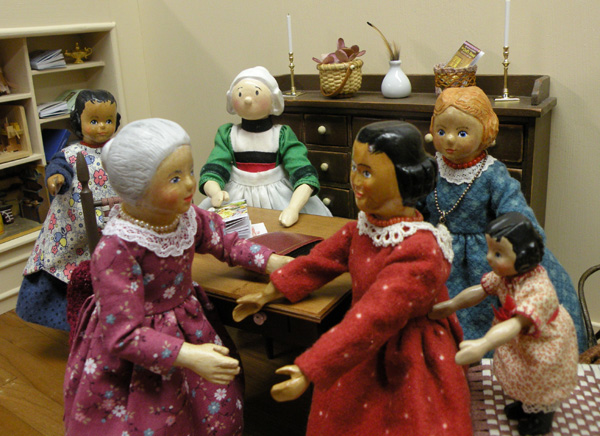 Oh what a wonderful day! Ima was beside herself with joy and we Hittys joined in her happiness. After many hugs and "Let me look at you", said over and over again, the rest of us got to meet her. She was exactly as I had expected, elderly but quite spry.
One by one we Hittys greeted her and then she asked about her trunk. I told her I had been quite surprised at the speed in which it had arrived. She smiled and said her travels were lengthy but smooth. I suppose she meant winter travel can always have delays.
The most important items in the trunk were Ima's letters. She wanted her to know just how much she had cherished each and every one and had saved them. They dated back to when Ima learned to write.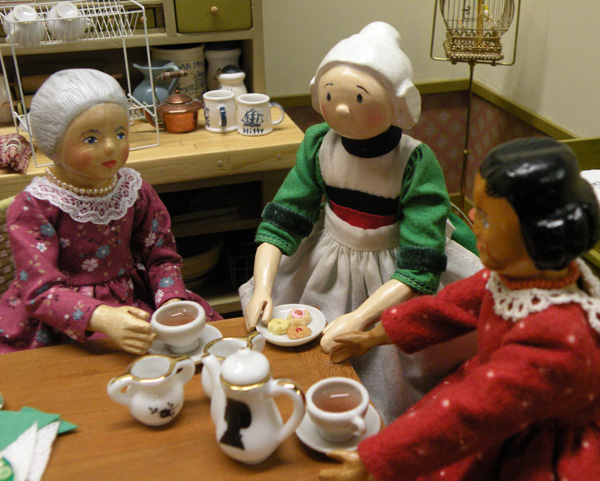 After the initial excitement subsided, I reminded the Hittys that before the doorbell had rung, they were to change into green dresses in preparation for St. Patrick's Day and Hitty Club. So off they went leaving Grandma Alice and me to enjoy a cup of tea. Having spent these past years in the British Isles, afternoon tea was a ritual. I remember Esther telling me that her mother and grandmother had tea each afternoon also.
St. Patrick's Day and Hitty Club have now come and gone. The Club ladies certainly had their troubles. We awoke to freezing rain and a winter mix that morning so two of the members just could not make it. All the Hittys came dressed in green but only a couple were interested in refreshments. Grandma Alice introduced herself and told them she looked forward to seeing them more often. You might say the whole day did not go as expected. Even the ladies' project, making a pancake doll was not as easy as they thought.
At the end of the day, everyone was exhausted but all had gotten home safely despite the continuing bad weather. We helped clear everything away and decided to turn in early. I do so wish spring would come. I long for a sunny day!
Postscript: Grandma Alice was created by Judy Brown. Judy and I had several conversations comparing our maternal grandmothers who had many similar characteristics. Judy then created a doll with these features. We both chuckled that their shoes were the same and both always wore dresses. She has been named "Alice" after Russell's grandmother.
She is Ima's grandmother and since Ima has no history like Hitty does, I have free reign to create her life. I hope you all will enjoy her addition to the stories of the Robertson Hitty family. Esther
Next Chapter or Return to Index