Chapter Two Hundred Eleven
Despite this dreary weather day after day, the workings of a household must continue. Do you suppose spring has been canceled? We still have seen no signs of it. Oh yes I forgot, there is one yellow crocus in the neighbor's yard!
We awoke one day to sun and blue skies. Of course, the temperature was still in the lower 20s. By noon the sun had disappeared behind the usual gray clouds, however, that didn't stop the Hittys from shedding their winter flannels and putting on spring dresses.
The spring sewing is well underway and Esther appreciated Grandma's help with the finishing touches. She remembers standing on a chair when she was a young girl and her grandmother pinning the hem.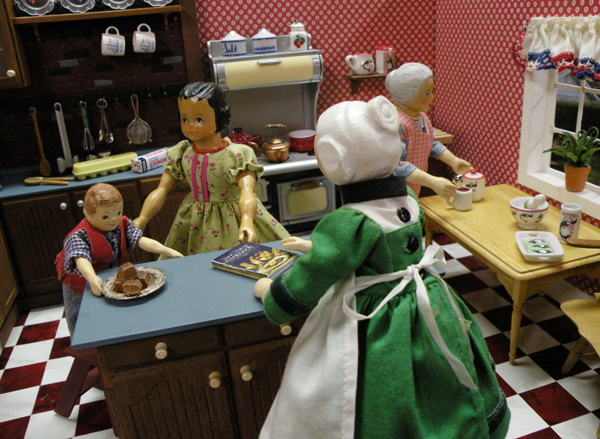 Grandma Alice is quite a baker and the Hittys love her brownies. They were barely out of the oven when Michael managed to reach the counter and sample them even before HittyBelle. They are her favorite food so the aroma of brownies baking always brings her to the kitchen.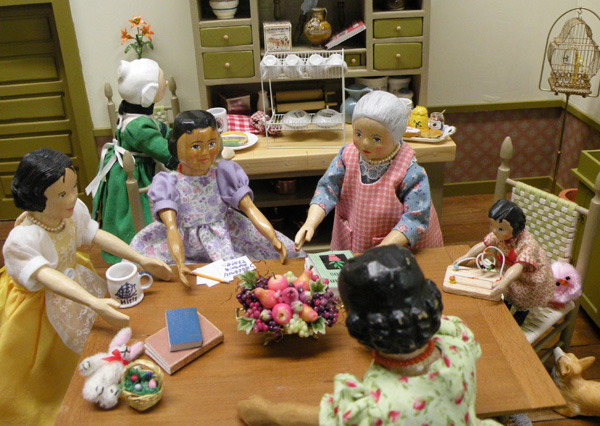 The calendar says it is spring so the conversation turned to what kind of gardening we do. Grandma was surprised that we plant only flowers and she suggested that we try an herb garden. She had me make a list of various ones she would like to plant.
Meanwhile in the other room my sisters were remembering how warm it was a year ago and how they had an Easter parade down our street wearing their Easter bonnets. We even had an Easter egg hunt in the backyard. Believe me, the weather will keep that from happening this year!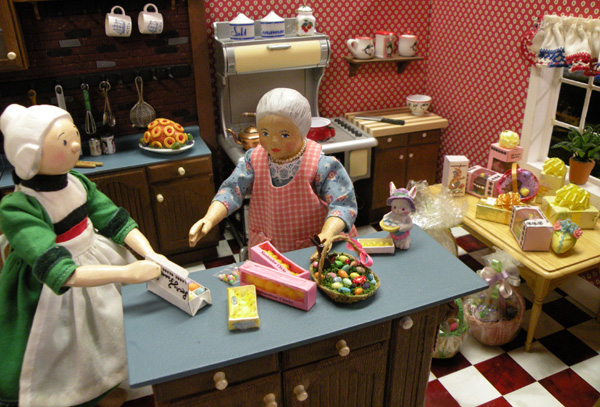 Becassine and Grandma took on the role of Easter bunny. Of course, the little ones get the most excited but there are traditions that must be followed - baskets of goodies, colored eggs, chocolate bunnies and those marshmallow peeps. Cold weather or not, it is Easter!
The Robertson Hittys and the Robertson family wish all our readers a Happy Easter.
Next Chapter or Return to Index