Chapter Seventy Seven
This past two weeks have been very busy indeed! We have spent most of the time at Esther's workbench or close by watching the activity. Every time she looked at the Bavarian furniture she had received at Christmas she knew it couldn't stay in a box so, she built a room with our help and of course, Russell's help too.
She decided to build the room in the style of the houses we all had seen when we attended the Bavarian Event last summer. After figuring out all the material and a trip to the lumber yard and craft store we had all the supplies we needed. It was suggested she build a foam core model first to see if it would fit at the location she had chosen. Deciding where to put such a room was not a problem since there really was only one place left in the display room for anything this size and that was to sit on the little bookcase at the foot of the stairs.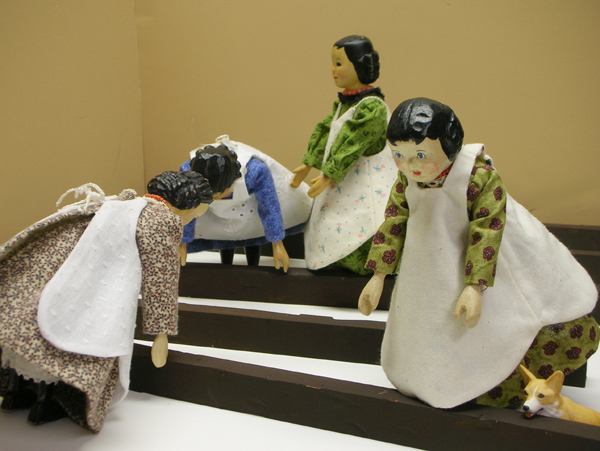 When Esther builds a room she does it in panels. We watched as she distressed the beams and were shocked as she hit each one with a hammer to distress it! We did get to help put them in place.
I think we enjoyed watching the walls get finished the most. She wanted the outside to simulate stucco so she mixed grit into the paint. It's main use is to be used when painting stairs so people won't slip on them. I thought that rather clever! The inside walls were painted with a sponge but she had done that before so we didn't find that as interesting.
When all the walls were finished, Russell helped put them together. We could hear them talking and I gathered from the conversation that making sure everything was square was very important. We watched as they drilled holes in the pieces and then used something called a counter-sink. The very last thing was to put lights in behind the front piece. That was entirely Russell's job!
When it was all finished and moved into place in the other room, we Hittys helped clear off the workbench.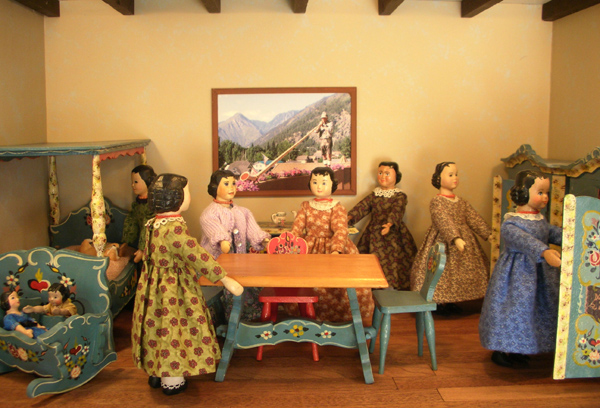 Once it was in place on top the bookcase, some of us hurried over to see just how it looked with furniture. Tasha immediately jumped up on the bed to take a nap and HittyPat and Hitty Penny were delighted to find there even was a cradle their size. After carefully inspecting every aspect we deemed it perfect!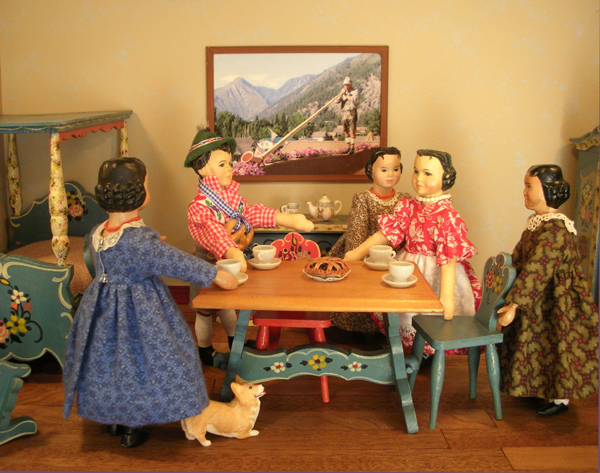 Later that same day we thought it might be nice to invite the Bavarian dolls to come see the new room and have tea. They were delighted and felt very much at home in such surroundings. They particularly liked the picture on the wall of their hometown.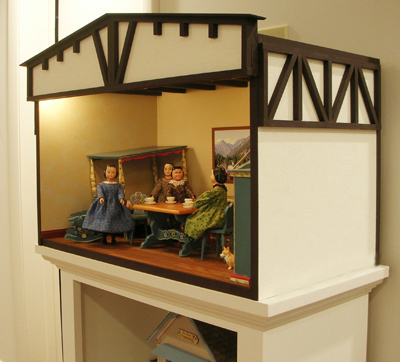 To close this chapter I asked Esther to put in a picture of just where it sits and she said she would gladly do so. We are all pleased to have the project finished and hope to have many happy times in this room.
Next Chapter or Return to Beginning