Chapter Eighty Six
I suppose it was inevitable, we have another new family member! Do you ever wonder why Hittys love big families? I do. I think back when I first came into being and wanted to be an only Hitty. That was five years ago this week and oh, how different I feel now. In the beginning Esther moved me from room to room, wherever she was working. If she hadn't, I would have been so lonely. Well, being lonely can no longer happen to a Hitty here!
Hitty Lara arrived straight from Judy Brown's workbench. Two of Esther's friends had seen her when she was nearly finished when they were spending the day with Judy. They just knew she should become a Robertson Hitty and sent Esther a picture They were so right!
This week was so full of activity. Hitty Marie came home from Maine, Hitty Emily arrived home from Circus Camp, the arrival of a new sister plus a puppy and Hitty Club met! Hitty Marie claims the puppy jumped in her box and came home with her but it seems more attached to Hitty Lara. Hitty Lara is really very shy and was embarrassed when the puppy had an accident.
I understand now why Hitty Emily traveled home in her circus leotard because she refuses to take it off! She does look quite fetching in it. Circus camp sounded like so much fun and she delighted in telling us about the parade and how one of the elephants picked her up while she was sitting in a chair! She said one day she would show us how to walk using the stilts she brought home.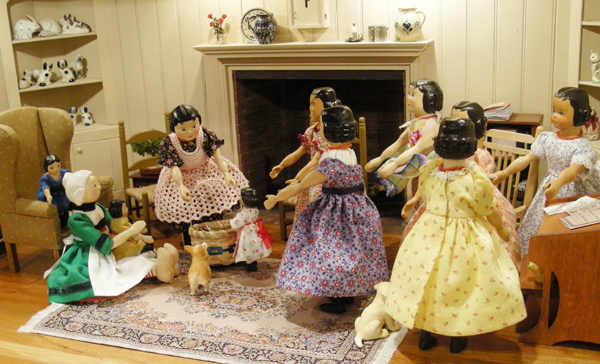 We all listened intently to the telling of adventures by both Hitty Emily and Hitty Marie. Hitty Marie must have seen every part of Maine! She showed us the basket she bought and one by one took out some of her souvenirs. There was a little rock and piece of sea glass from Great Cranberry Island! She had been to museums, had picnics on beaches, visited a doll shop and a library before taking the boat over to the island. She even saw Stephen King's house! We all wish we could have gone too.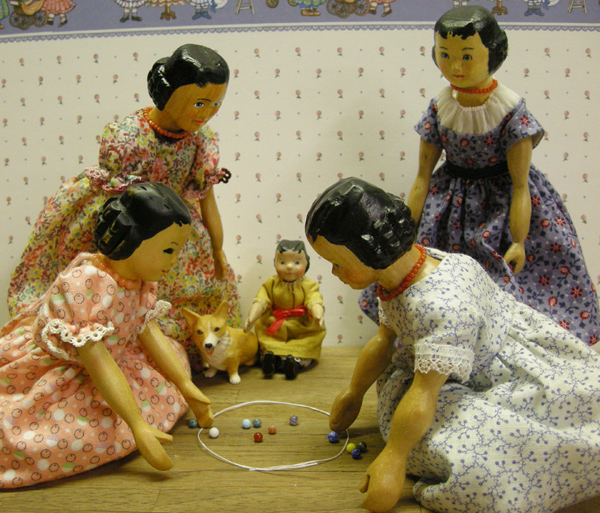 HittyBelle and Hitty Carol were especially delighted with the jar of marbles she brought home. Hitty Beth and I found it interesting to watch them play the game. I have never played marbles but Esther told us she was quite good at it in her childhood.
At the end of this very busy week, Hitty Club met and the ladies learned a decorative stitch to use on the aprons they were making. All the Hittys and the ladies were eager to meet Hitty Lara and see all the goodies the camper returnees brought home with them. I like the days Hitty Club meets!
Next Chapter or Return to Beginning
or