Chapter Ninety One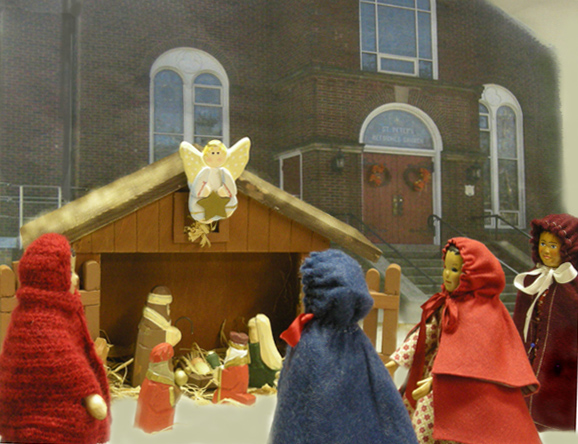 Oh what an exciting time of year! Esther says we are having the kind of weather people sing about in the song "White Christmas." It is the middle of December and we have snow. The beautiful colored lights of Christmas reflect on the snow giving everything a special glow. On our ride around town to see all the decorations, our favorite was the Nativity scene outside St. Peter's Church. This is the church Esther's grandfather helped build a long time ago.
Each year I hear talk about people going to parties and this year we Hittys have been invited to a Christmas party over at Gretchen and Gunther's room. We were so excited and could hardly wait.
Gretchen and Gunther greeted us warmly and explained that they wanted us to experience a party similar to the kind people of Bavaria would have at this time of year. They had decorated with a wreath on the wall and a swag of greens on their buffet.
Becassine
was particularly interested in seeing the food and was pleased when Gretchen complimented her on her holiday apron. Oh, the table looked so grand! A gingerbread house stood in the middle of the table surrounded by plates of various kinds of sweets. There were Husaren Krapferl cookies made of sour cream with jelly filling, heart-shaped frosted gingerbread cookies named Zimststerne and of course, a Stollen. I asked the name of the pinwheels and Gretchen told me it was Schwar/weiss Geback. I know I won't remember that long name! She also explained that she wasn't much of a cook and she had ordered all the food from the kitchen of Mrs. Plum.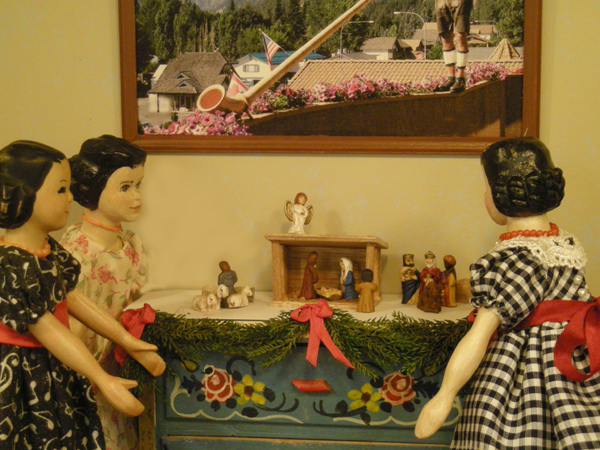 After feasting our eyes on the goodies, we noticed the tiny little Nativity set on the buffet. We were fascinated by the small size of each of the characters. It must have been a lot of work painting such detail on pieces so tiny.
Gretchen gathered the little Hittys around her as she told about St. Nicholas, the historic Saint of Christmas and how Christ Kind was the Christ Child depicted as an angel in a white gown with a wreath crown of candles. The little ones were intrigued with the nutcracker and she told them it was a very common item in Bavaria.
HittyBelle was interested in the Gluhwein Set. Gunther told her that in Bavaria at Christmas time a hot spicy wine was always served. Knowing we were all too young to drink wine, a perfectly permissible substitute was made and a hot apple cider was served along with gingerbread cookies. Becassine kept reminding us to be moderate in all our feasting.
No party can be complete without music. Gunther got out his accordion and played as we sang Christmas carols.
We all knew the traditional carols by heart! When we were finished singing, Gunther broke into some lively German tunes and Hitty Carol and HittyBelle started dancing. It was such a lovely party, we didn't want to leave!
We will now get ready for our trip to Maryland and Virginia to spend Christmas with the family. The Robertson Hittys and Esther and Russell want to wish all our readers a very MERRY CHRISTMAS and a HAPPY NEW YEAR!
Next Chapter or Return to Beginning
or