Chapter Ninety Four
Winter continues but we Hittys have many things to keep us busy indoors. The weather rages and the adults complain but life in the Hitty rooms remains peacefully active. Oh, there are advantages to being a wood doll!
For some time now HittyBelle has been wanting to try her hand at painting. She has always admired the Impressionists' work and decided since it didn't have definite fine lines, perhaps she could do something similar. She used a book of Monet paintings as her guide.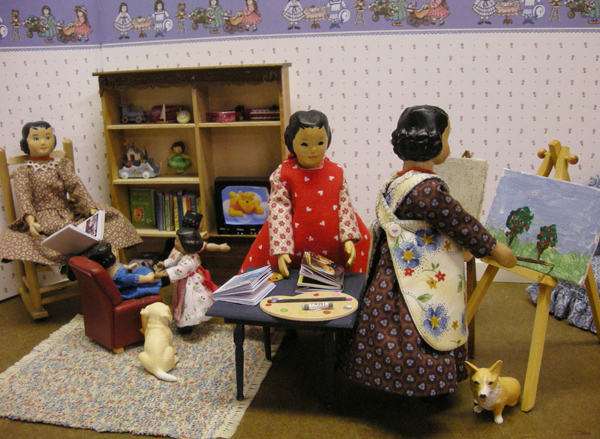 Hitty Carol was more interested in Vermeer's work. No amount of explanation could convince her that his method of painting was much more difficult and exacting. She spent time reading the history of Vermeer's paintings and figured there was no harm in trying. She set up an easel along side HittyBelle's and much to our surprise, covered the canvas with plain gray paint. She said that is the way Vermeer started his paintings as well as a lot of other artists.
After her canvas was prepared, she really couldn't decide on which painting to copy or whether she should do a rendition of her own. HittyBelle was having a much easier time with her project since the subject matter was scenery. She wasn't too optimistic about Hitty Carol trying to paint people as was the case in all Vermeer's painting but two. She was careful not to discourage her but I know she had many reservations.
Just about the time Hitty Carol made her decision as to which painting to try, Tasha insisted on going out. I offered to take her but she was quite set on Hitty Carol taking her. I suppose it is because she knows Hitty Carol is more likely to take her for a walk around the block instead of a short outing.
It has been snowing off and on for several days but that didn't deter Tasha. She loves being outdoors in almost any kind of weather.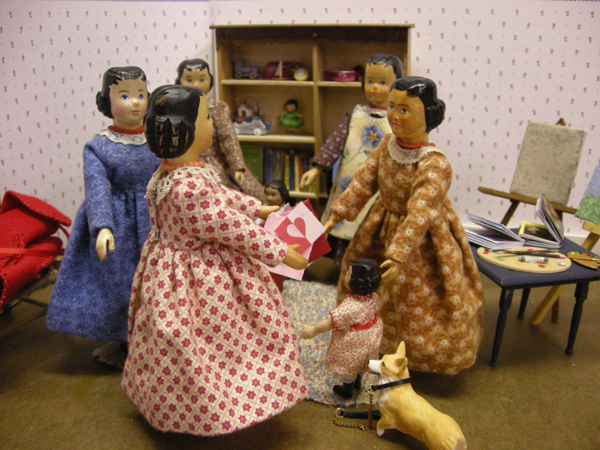 When Hitty Carol and Tasha returned from their walk, they brought in the mail. We all were excited to see the beautiful valentines. Valentine Day is so special and we want to say Happy Valentine's Day to all the readers of this Journal.
Next Chapter or Return to Beginning
or