Chapter Ninety Five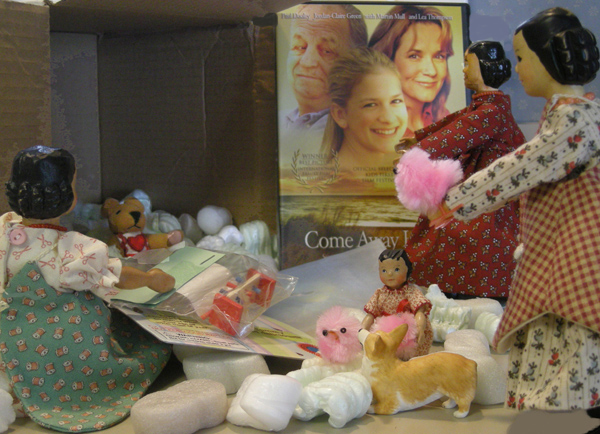 What a delightful surprise we received when the mail was delivered a couple of days ago! We quickly brought the box from the Greens to the kitchen counter and opened it. Out tumbled a lot of goodies! First and most important was the DVD of the movie "Come Away Home" starring Jordan-Claire Green that Esther had been trying unsuccessfully to find here in Pennsylvania since its release several weeks ago. We recognized her picture on the cover as the young girl who visited us last summer. She and her mother are 'Hitty people' and Jordan-Claire has actually carved her own Hitty Em.
Esther put the DVD in the TV room so it could be watched later and we continued to sort through all the other goodies. Most of the items were related to Easter and one in particular caught our attention. There was a card with a little brown bunny fastened on it. Upon reading the caption we realized it was not for us to eat but to have an experiment.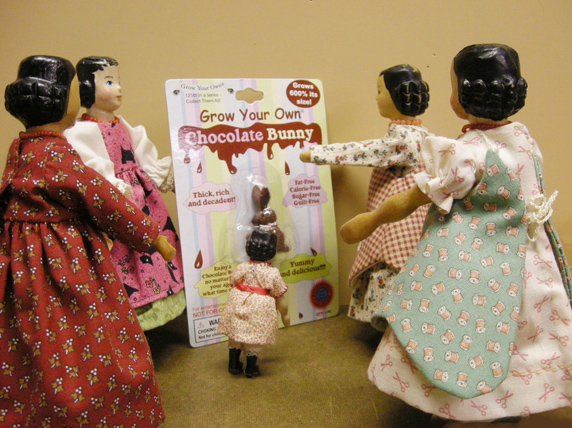 We took the card downstairs and upon closer inspection thought we better move this project to the workbench. We read all the instructions and then requested a container of water. The instructions were to put this little brown bunny in a container of water and watch it grow.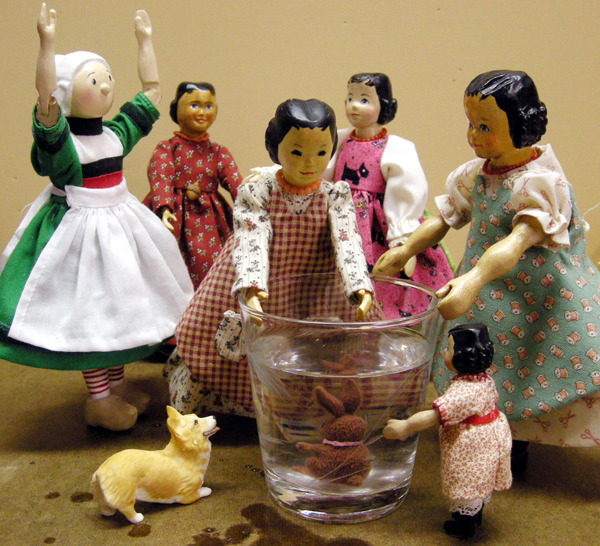 At first all the containers Esther found were too large for us to handle so she finally agreed that we could use a glass. One that was the size we could look down into. We put the bunny in just as stated in the directions. That is when Becassine discovered what we were doing. She just couldn't believe that this was the proper thing to do! Hitty Carol took charge as she reminded us that she had prior experience with experiments. Oh yes, we remembered her story about microwaving an Easter marshmallow peep.
According to all the information on the card, the bunny is placed in water and over a period of several days, it changes to a lighter color and grows in size. Once returned to a dry surface, it goes slowly back to its rich chocolate brown color and original size. We watched for awhile but nothing happened and so we went to bed.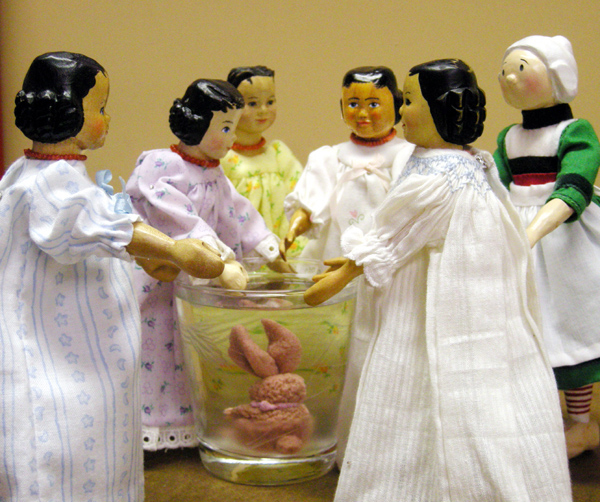 As soon as we were up the next morning we rushed over to the workbench and low and behold, it had grown! It was a sort of a pink color instead of the rich brown. It seems the ears grew the most so we added more water. After getting dressed we continued to watch but the process was so slow that it was much more fun to leave it and come back in several hours to see the progress.
Much later in the day Becassine brought the little ones to see it. They commented that the bunny was close to their size. Tasha and Puppy were unimpressed.
We will continue to watch the bunny until it outgrows the glass and then let it return to its original size. While we were having fun with the bunny Esther, Russell and their daughter Carol watched the movie and enjoyed it very much. The film is about the lessons in family values a young girl learns when she is forced to visit her Grandfather who lives in a remote area on Hilton Head Island where Internet blogs, shopping centers and her friends are not part of the scene instead of the summer in her hometown of New York City.
The Robertsons and their Hittys wish all a Happy Easter.
Next Chapter or Return to Beginning
or