Chapter Ninety Nine
I do not know what has gotten into my sisters lately. HittyBelle has wanted to do nothing but roam around outdoors after every rain shower. She has always been curious about everything but those red boots have made her think she can go anywhere she wishes. She even went into the dirt in the newly planted flower garden!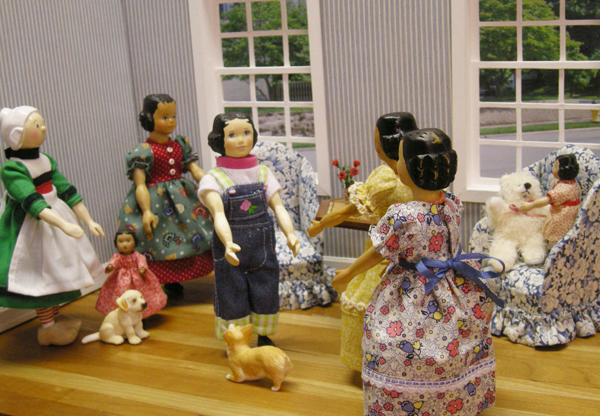 A package arrived from Hitty-Esther in California with a pair of overalls. I was just about to say that Hittys always wear dresses when Hitty Ann, whom I previously thought was quite proper, changed into them immediately. She thought they might be just the thing to wear when tree climbing. Tree climbing! I wondered what next!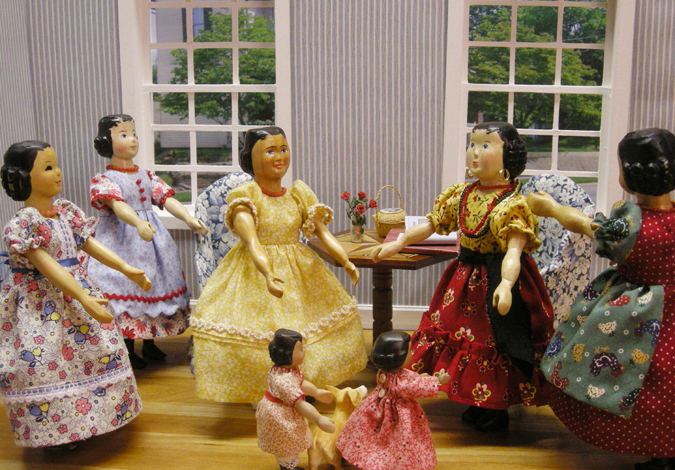 I didn't have to wait long for the next revelation! Hitty Marie is to attend the July session of Gypsy Camp and had been spending time picking out fabric for a costume and Esther made a dress just for the occasion. Then Hitty Marie had another idea for which I just could not cope. She insisted on having her ears pierced and earrings inserted! For a human, this means taking a needle or the like and putting it through the ear lobe but for a wood doll, it means drilling! I was shocked that Esther agreed to it! When I heard that drill buzzing, I was shaking to the bottom of my pegs. I simply couldn't watch. When the deed was accomplished, she trooped into the room to show us. She was so pleased. I do have to admit, she looked quite fetching but the sound of that drill still echoes in my head. Do you suppose she will want to leave them on when she returns home?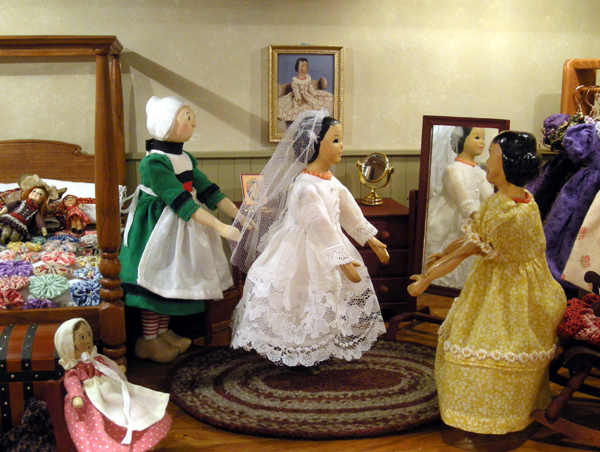 Later in the day, I could not find Hitty Carol. It is not like her to disappear. She is usually in the midst of any happenings but is not above a bit of mischief. This time she surprised me. She had gone into the bedroom and with Becassine's help had put on the beautiful white dress and veil that we received as a gift in Niagara Falls. She had been reading the chapter about our ancestor Hitty in the Cotton Exhibition and couldn't resist a bit of role playing.
I try my best to be a caring and watchful sister but I must remember, that although we are all Hittys, we each are different in little ways and I should be grateful that they keep my life interesting. By the time our friends arrive for Hitty Club meeting next week, I wonder what they will have gotten into by then.
Next Chapter or Return to Beginning
or